Controversy As Akeredolu's Wife Allegedly Charges Women N20,000 For FOSOWO Workshop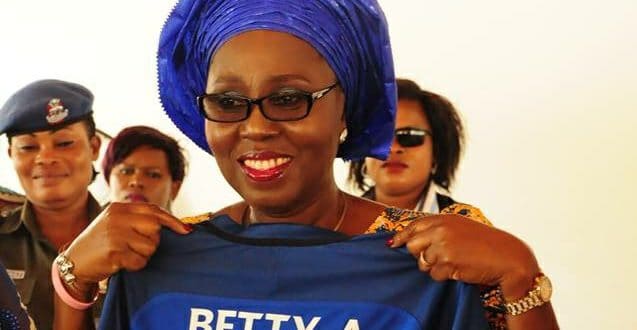 Some residents of Ondo State have frowned at the N20,000 registration fee intending participants have been asked to pay for a summit organized by the Forum For Wives Of Ondo State Officials (FOSOWO).
The wife of Ondo State Governor, Arabinrin Betty Anyanwu-Akeredolu, @Bettyaak, invites the general public to the 1st FOWOSO (Forum for Wives of Ondo State Officials) summit. A 2-day summit.

Theme: Unlocking the hidden potentials in women: A task for all.#FOWOSOsummit2018 pic.twitter.com/2FekK8G1fo

— Afolakemi Sparkles (@FollySparkles) December 5, 2018
The Wife of the Ondo State Governor, Betty Anyanwu Akeredolu, is said to be the chief convener of the forum.
The programme, which was designed to commemorate the first anniversary of FOWOSO, was inaugurated last year shortly after the coming on board of her husband, Oluwarotimi Akeredolu as governor of the state.
Some residents, who expressed their displeasure on the gate fee which has been made compulsory for participants, emphasized that it is "unreasonable" for the governor's wife to peg a workshop fee at N20,000.
They argued that FOWOSO since inception has been fully funded by the state government.
One of the residents working with Akure South Local Government Council and who wanted to be identified only as Mrs Adaralegbe, maintained that such workshop coming from the stable of the governor's wife should not have attracted any financial implications for participants.
Stating that such move would shut out those willing to attend the workshop due to the N20,000 fee, putting into consideration that Ondo State is mainly civil service state.
"If truly that the purpose of creating FOWOSO by Arabirin (Gov's wife) is to bring succour to homes across the state through sensitisation and workshops on how womenfolk in the state can assist in the home front, then the fees is too outrageous.
"In my own situation, with my salary less that N100, 000 in a month, they want me to pay N20,000 for a programme that will be fully sponsored by the government?
What I know of such pet projects by previous wives of governors in the state, is that, it's strictly based on NGO model without collecting a dime from indigent people."
Also condemning the financial motive of the program, a staff of the Ondo State Oil Producing Area Development Commission, OSOPADEC, who craved for anonymity, alleged that FOWOSO is more of a fund siphoning platform.
Arabinrin Betty-Anyanwu Akeredolu since her inception has deemed it right to alleviate poverty among women and young girls in Ondo State through her empowerment initiatives under the umbrella of Forum for Wives of Ondo State Officials (FOWOSO).#FOWOSOsummit2018#TheCitadelTower pic.twitter.com/RKOpRZuv0l

— Afolakemi Sparkles (@FollySparkles) December 5, 2018
According to him, almost all the programmes initiated by Betty Anyanwu – Akeredolu are being sponsored by his place of work, OSOPADEC.
"I was dumbfounded when I saw the invite stating that participants should pay N20,000."One thing I'm certain of is that OSOPADEC is one of the major financiers of her (Betty Anyanwu – Akeredolu) programmes.
"Not only that she demands for fund from our office (OSOPADEC), virtually all projects in the commission is been handled by her, which in some cases it's through her son, Jide."Even, the BEMORE project which she also handles is fully funded by OSOPADEC."
Reacting to the outcries that have greeted the summit, the Chief Press Secretary to the wife of the governor, Oluwatobi Fademi, argued that the registration fee is meant to take care of the resource persons for the summit and as well cater for participants, adding that the fee is the cheapest compared to other states.
Fademi further stated that the summit was solely sponsored by individuals contribution and not through the government.
"The summit is for two days. There is a 5th and 6th. The November 5th day is the day of the lecture. That is the day people are paying.
"We're bringing world renowned people for the lecture and it is money that we are going to use to bring them. And the registration is for people that can afford it.
"That day there will be raffle draw, where people will win things, there will be gifts for everyone, as well as food.
"It's even cheap in Ondo. In Lagos State, such programme goes for as high as N50,000 per participant.
"Even Oyo State has something similar. In things like this, there are knowledge to be gained.
Read More News. Download Naija News App. Send us enquiries and press releases.