Cultist Confesses To The Killing Of 17-Year Old Girl In Bayelsa State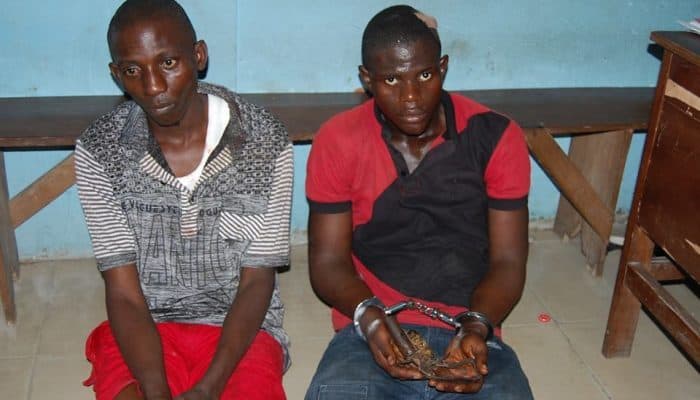 Bayelsa State Police Parade 31 Cultists
A cultist, Junior Daumunabo, has confessed that his gang was responsible for the killing of a 17-year-old 100 level student of the Niger Delta University (NDU), Seifa Fred.
The Nation reports on Friday, Novermber 9, 2018, how Seifa Fred was shot at close range while running an errand for her mother in the state capital.
Fred, who was at home following the strike declared by the Academic Staff Union of Universities (ASUU), was said to have gone out at about 8pm to buy roasted meat popularly known as suya for her mother but met with suspected cultist who shot her in an attempt to snatch her mobile phone.
Daumunabo, who was among the 31 suspected cultists paraded at the Bayelsa State Police Command, Yenagoa, for murder, robbery and other crimes, however, claimed he did not partake in the operation where Seifa was killed.
The 20-year-old, a member of the Greenland cult, said his gang was fond of attacking people in Yenagoa and snatching their android phones.
He said he did not take part in the operation where Seifa was killed because he was afraid she could identify him.
Daumunabo said when his colleagues went for the robbery, he sat near a supermarket at Amarata, waiting for them.
"When they returned, they said they had killed the girl and l asked why? They told me the girl dragged the phone with them and they shot her. I didn't shoot her. I didn't participate in the operation," he claimed.
Asked to name his gang members who killed the teenager, he identified them as Richman and Enemor.
Daumunabo said he was arrested with a locally-made pistol in another operation with two other cultists to rob people of their phones.
"We were three. We were in a tricycle with the intention to steal phones. Suddenly, members of the Bayelsa Vigilance Service appeared. My colleagues ran away, but I was apprehended. They retrieved the gun from me," he said.
Parading the suspects, Police Commissioner Joseph Mukan said the crimes committed in the state were caused by cultism and drug abuse.
He said Daumunabo was assisting the police to arrest fleeing members of his gang.
Mukan said the Command Clearance Squad (CCS) also nabbed Funkeye John Timbofa, 24, in connection with robbery and murder of a police corporal, Sammy Saturday, attached to the Counter Terrorism Unit (CTU).
Source: Naija News