Bribery video: Ganduje denies collecting bribery from any contractor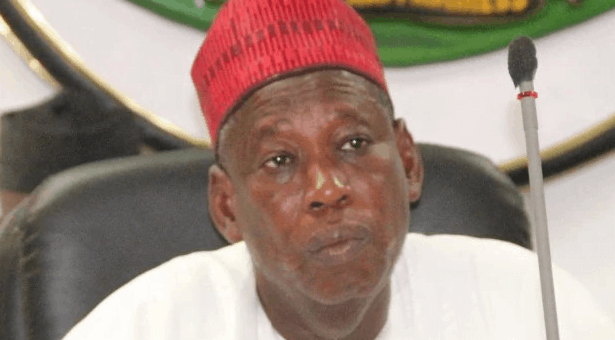 Kano State Governor, Abdullahi Umar Ganduje on Friday, has denied collecting bribe from any contractor.
Testifying before the house, Ganduje said the allegation labeled against him are injurious.
Ganduje said the video clips released by the publisher of Daily Nigerian was aimed at tarnishing his image politically.
Speaking on behalf of the Governor, the Commissioner of Information, Mr Muhammad Garba, said he was at the assembly Complex to represent the governor due to the options provided by the committee in its letter.
The Governor, in document presented before the committee had denied collecting the bribe from the contractor as alleged by the publisher of the online Newspaper.
According to the document, the Governor stated that such had never happened with him and will never happened even in the future time.
The Governor in the letter called on the public to discard such allegations as it did not happened, and also called on such publishers to avoid such publications that can tarnish the image of leaders.
"Such untruth publications was done to the Emir of Kano, Malam Muhammad Sanusi the II and also to the former Governor, Malam Ibrahim Shekarau", Ganduje said in the document.
Also commenting on the issue, the Commissioner of Justice Barrister Ibrahim Mukhtar and also the State's Attorney General commended the way and manner the committee is handling the issue by given fair hearing to the both parties.
According to him, the Governor has options as stated in the letter presented to him on the invitation, as the committee given an option for him to send a representative or send a written document as provided by the Constitution of the Federal Republic of Nigeria.
The Chairman of the Committee, Alhaji Baffa Danagundi commended the the represantative of the Governor for honouring the committee's request.
Danagundi said the committee will throughly watch the video on Tuesday in the presence of the representatives of both parties but not publicly.
It could be recalled that the state House of Assembly, under the leadership of Alhaji Kabiru Alhassan Rurum, constituted a committee on October 15 to establish the authenticity of the videos.
An online newspaper, DAILY NIGERIAN had on October 14 and 15 exclusively published two videos of showing Mr Ganduje allegedly receiving bribe in dollars.
Consequently, the publisher/editor-in-chief of DAILY NIGERIAN, Jaafar Jaafar testified before the committee on October 15 where he insisted that the videos were genuine, and expressed readiness to swore by the Quran to convinced doubting Thomases.
The three paragraphs letter sent to the governor titled "invitation to respond to an allegation of bribery against H.E Dr Abdullahi Umar Ganduje, requested the governor to appear on Friday.
Source: Naija News