22-Year-Old Woman Steals Baby, Says Its Because She Is Barren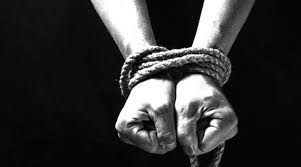 Suliat Badmus, 22-year-old woman has been arrested for stealing a five-month-old-baby into the family's abode in Odogunyan, Ikorodu area of Lagos, because she is barren.
She was arrested eight days after with the baby at Sabo area of Ikorodu.
She told inquisitive residents the baby was hers.
Naija News learnt that Badmus moved into her female relative's apartment located on 1, Adeyiga Street, Odogunyan, Ikorodu, on September 26, after she told them she had accommodation issues.
The following day, when the mother of the baby, Shukurat Opeoluwadu, went to hawk local medicine popularly known as Agbo, leaving her baby in the care of a 50-year-old woman, Oluwakemi Amosun, Badmus, absconded with the baby.
The police were alerted after the long wait for her return seemed endless.
The Commissioner of Police, Lagos State Police Command, Imohimi Edgal, who explained how the fleeing suspect was arrested and the stolen child rescued, said: "Based on the complaint, I activated the Anti-Kidnapping organ of the command to go after the suspect and rescue the baby.
"Eventually, the suspect, Suliyat Badmus, was arrested on October 7 at Sabo area of Ikorodu. The baby was rescued from her and has been reunited with her parents."
The suspect during interrogation, said she didn't have any intention to sell the baby, but to keep her.
According to her, she committed the crime because a medical examination showed that she was infertile.
Her words: "I actually took the baby, not with the intention to sell her but to nurse her as mine. I have a disease that affected my womb. I am married and desperately needed a baby I will call mine."
The suspect and all persons involved, according to Edgal, will be prosecuted.