Ambode Blow Hot, Says Sanwo-Olu Was Arrested For Spending Fake Dollars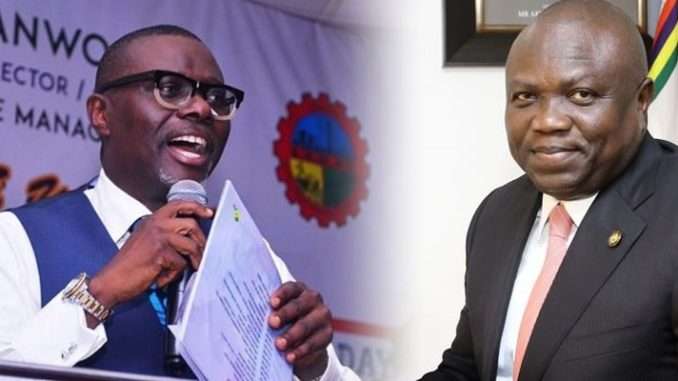 There are strong indications that Lagos state governor, Akinwunmi Ambode has been pushed to the wall as far as the battle for the All Progressives Congress (APC), governorship ticket in Lagos state is concerned.
He had been under pressure for weeks not to seek re-election as Lagos state governor following the emergence of an APC aspirant, Mr Jide Sanwo-Olu. Naija News understands that Mr Sanwo-Olu has the backing of APC leader, Chief Bola Tinubu, he has also been endorsed by the state Governorship Advisory Council (GAC).
At a world press conference on Sunday, Ambode took Sanwo-Olu to the cleaners by revealing that the latter was once arrested for fraud. "This particular aspirant, has been arrested for spending fake American dollars and he was detained for months, He also know that he doesn't have the competence to do what he is propelled to do, This is someone who has gone for rehabilitation before." He said.
He also used the medium to state that he was not going to bow to pressure,"Our leadership should have a rethink because the truth is this, I will not stand here on the mandate of Lagosians and then allow our party, APC to filter away that opportunity," he concluded.
Meanwhile, the National Association of Nigerian Students (NANS) has disassociated itself from the purported report of endorsing Mr Sanwo-Olu as the Governorship candidate of APC in Lagos State in 2019.
https://youtu.be/O3WxD8qIQFk