Death Toll In Anambra Flood Rises To 4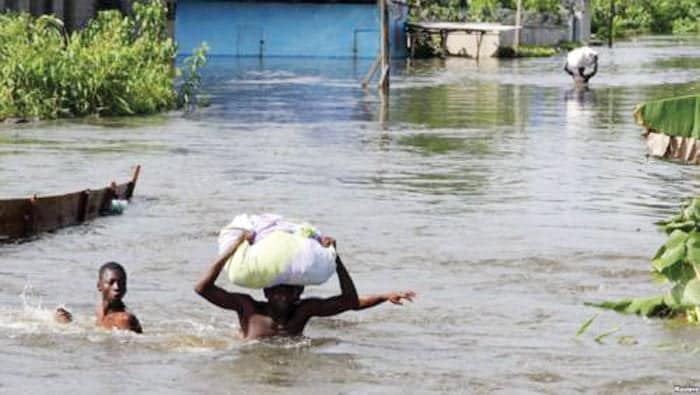 The chairman of Ogbaru Local Government Area, Mr Arinze Awogu, has revealed that four persons have lost their lives in a flood disaster that ravage Obolo village in Ogwuanicha, Anambra.
According to the chairman, one if the victims was one Chief Ojike Ajanwu a father of nine children, who had drowned in the flood that submerged houses and displaced residents.
The chairman said that the wife of the deceased, who is nursing a one month old baby, and her eight children were at the Internally Displaced Persons (IDPs) centre in Ogwuaniocha.
"The deceased left behind a young wife, Chinasa, who hails from Ossomala and nine children, the oldest of the children is 13 years old.
"Our hearts go out to the family, and we assure them of government's support and sincere condolences, we shall inform the governor about the incident.
"We are still counting the number of deaths but as at it stood at four," he said.
He said most notable sons and daughters of Ogbaru have been sacked by the flooding and called for more support to enable them overcome the challenge.
"I must tell you that all the prominent persons we have in Ogbaru local government including elected and political office holders are now IDPs.
"Among them are: Prof. Ben Nwabueze, Rep. Chukwuka Onyema, representing Ogbaru in the Federal House, Sen. Stella Oduah, Mr Somto Udeze in the Anambra House of Assembly.
"Mrs Chinwe Nwebili, former Speaker of Anambra House of Assembly, Chief Dubem Obaze, Mr Oseoka Obaze for Anambra SSG, Mr Afam Ogene, former Federal House member, myself, and many others are all IDPs.
"It's a real emergency, none of the 16 communities in Ogbaru is left out, the upland is congested, the IDPs camps are overstretched so we are now moving them to Ihiala and Onitsha.
"I do not know the basis for the impression that this flood is receding, for us down here in Ogbaru, we are still at the middle of this emergency, and flood level is still rising," he said.
While calling on National Emergency Management Agency to show more presence in the affected area, the chairman, appreciated the state government for it effort help the people affected.
Mr Walsom Ibarakumo, Coordinator of Enugu office of NEMA told NAN that they have handed over quantity of relief materials to Anambra SEMA for onward distribution to affected persons.
He said the items so far handed over to Anambra SEMA were food and non-food items including 600 bags of rice, 300 bags of Garri, 600 bags of cement, 200 cartons of Milo, 300 bags of beans, 1,000 cartons of detergent and 300 cartons of tin tomato.
Other were 2,000 pieces of treated mosquito nets, 1,000 pieces of toilet soap, 1,500 pieces of printed wax, 150 kegs of vegetable oil, 150 bags of salts, 150 bags of sugar and 150 kegs of red oil
Source: Naija News