Aisha Buhari Orders Arrest Of Her ADC Over N2.5 Billion Fraud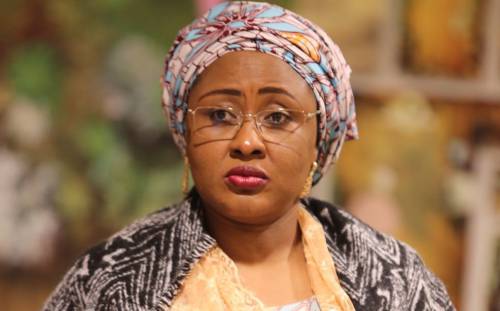 President Muhammadu Buhari's wife, Aisha, has ordered the arrest of her own Aide De Camp, Sani Baba-Inna alleging that he defrauded her, Premium Times reports.
According to Mrs Buhari, Baba-Inna, a chief superintendent of police, failed to remit huge donations from politicians and business people that he received in her name.
The President's wife as a result of this, requested the Inspector General of Police, Ibrahim Idris, to arrest and compel Mr. Baba-Inna to refund the money, put at over N2.5billion.
Baba-Inna was immediately arrested and remained in detention since Friday, with relatives having no access to him, family members say.
Since he was confronted with the allegation, Mr. Baba-Inna has strongly maintained his innocence,  maintaining  that he received no donation from anyone on behalf of his boss.
Outcome Of Police Investigation
Following the petition, the Police, last Friday, arrested Mr Baba-Inna and carried raided his home in the Garki District of Abuja.
However, the outcome of the raid and checks on his bank account showed that money of such magnitude was not in those locations.
When Mrs Buhari was informed of the outcome of police investigation, the source said the first lady flared up and accused the police of colluding "to protect one of their own".
She then reportedly asked the Department of State Services, DSS to take over the case and get her money back".
SSS Wades In
On the orders of the wife of the president, DSS operatives reportedly took custody of Mr Baba Inna.
The News platform confirm that Mr Baba-Inna was in custody at the headquarters of his agency in Abuja.
"He was handed over by the Police and investigation is ongoing," he said.
A member of the Baba-Inna family also informed us that the DSS allowed Hassana, the wife of the ADC to meet him today.
Source: Naija News