See Those Planning To Disorganise 2019 Elections With Fake News According To Lai Mohammed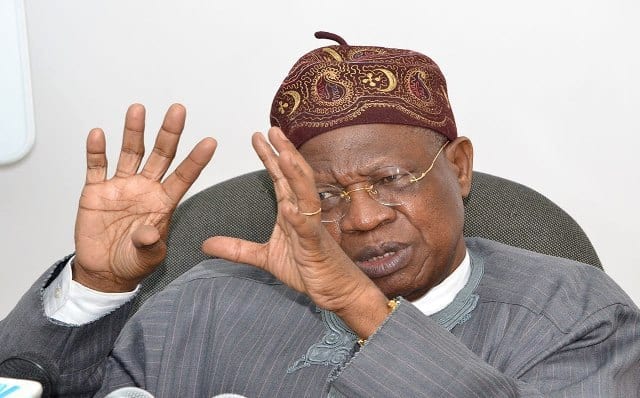 Again, Lai Mohammed Warns On The Danger Of Fake News
Nigeria's information minister, Alh. Lai Mohammed says fake news is the only weapon used against a performing government like theirs.
This the minister said yesterday while on a visit to a news publishing house in Abuja.
He said prominent and respectable media organisation make claims with evidence to justify their claims.
He said the media is free to criticize the president but it does not have the right to denigrate him because he is the symbol of the country.
"Fake news has taken another dimension. Now, it is not uncommon for otherwise respectable media organisations to accuse the president of the Federal Republic of Nigeria without backing up their accusation with an iota of evidence," the minister said.
"The latest of such occurred two days ago, when a newspaper wrote an editorial in which it resorted to the use of uncouth language to link the president to the farmers-herders clashes. In their eagerness to de-market the President, they forget that the President is the symbol of Nigeria, and that by denigrating him, they are denigrating the country.
"Unknown to them, by throwing caution to the wind, they are not only denigrating the country, they are also destroying themselves. The media is free to criticise the president, but it is not right to denigrate the president.
"They are unrelenting, because fake news is the only weapon they have against a performing administration like ours. They know they cannot take on us on the issue of infrastructure, economy, fight against corruption, agricultural development, etc. They have therefore resorted to using fake news to de-market our administration. Thankfully, they are failing."
According to Mohammed,the media houses spreading fake news are also perfecting plans to distort the general elections in 2019.
"The purveyors of fake news in Nigeria have not relented. If anything at all, they are perfecting their strategy of using fake news to distort the campaign for next year's general elections," he said.
"No doubt, the main target of the naysayers is the Buhari administration. They have used fake news to aggravate the farmers-herders clashes.
"If we can't slay the monster of fake news, we must at least tame it. All we are asking all Nigerians to do are check the source of any news item being pushed their way [and] don't share whatever they cannot vouch for."
Source: Naija News