Nigeria, UK Sign Agreements On Security And Economic Development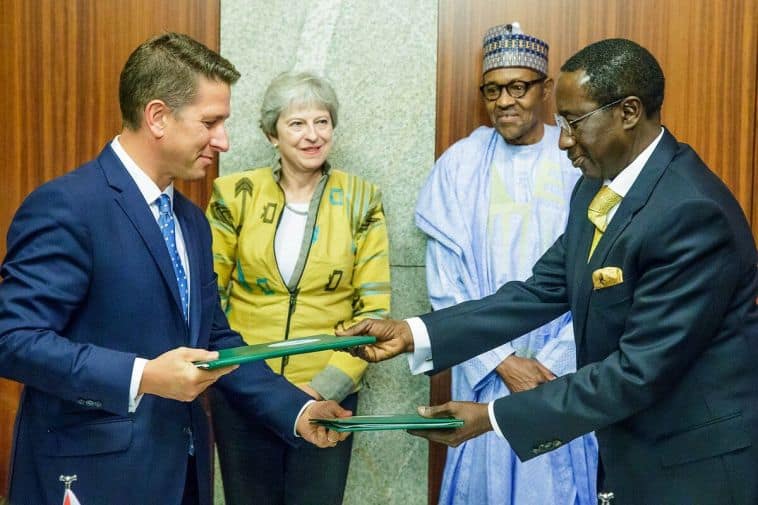 UK And Nigeria To Collaborate On Security And Economic Development
The United Kingdom and the Nigerian Government have signed bilateral agreements on defence, security partnership, as well as a comprehensive agreement on economic development, Naija News understands.
The Minister of Foreign Affairs, Geoffrey Onyeama, who disclosed this to reporters at the Presidential Villa in Abuja yesterday said the signing of the agreements highlighted the two priority areas in the relationship between the two countries at the moment.
The UK is a very important and strategic country to Nigeria, especially in defence and security, and in trade and investment. Nigeria remains ever grateful for the security assistance we've been getting, particularly in training and capacity-building. pic.twitter.com/GwNhSN3DUG

— Muhammadu Buhari (@MBuhari) August 29, 2018
Onyeama  also described the defence and security pact as a comprehensive agreement that covers all aspects of security challenges. According to him, apart from the military training, there is also the support for policing, civil policing, human rights aspect of security and the close cooperation that the two countries will have.
He added, "On the economic development forum, this is a forum that really aims at co-prosperity. The prosperity of our two countries are sloping to leverage in areas where we have as countries comparative advantages, the financial centre that London is and the investment opportunities in our country and ready to build that up with the private sector as well as the government level.
"So, everything will be comprehensive and involve different stakeholders and this is in the context of UK's Brexit. Coming out of the European Union, they feel freer now to engage with countries on bilateral level and build up trade relations with those countries.
The Bilateral agreement on Nigerian Trade Development by Nigerian Minister of State Budget & National planning, Hajia Zainab Ahmed and the British Minister of State for Trade Policy, George Hollingbery, MP
?? ?? pic.twitter.com/4NcziG15dr

— Presidency Nigeria (@NGRPresident) August 29, 2018
"For us, this also fits into our Economic Recovery and Growth Plan where Mr President has put forward a road map that is really transforming this country. So, this partnership is a framework that is very key to our economic growth and development plan.
"On human rights, we have taken a number of steps in the area of human rights. Mr President has set up a committee that looks into the various allegations made against our military and the process is ongoing and we are very keen to have, as a government, a mechanism within the security apparatus of this country that ensures that the correct procedures and methods are implored by the military."
Our Meeting also provided an opportunity for me to assure Prime Minister May of my total commitment to conducting free, fair and credible elections in 2019. Nigeria has come to fully accept multiparty democracy, and this is putting politicians on their toes. pic.twitter.com/JqGT5MluhW

— Muhammadu Buhari (@MBuhari) August 29, 2018
Earlier while welcoming May, Buhari had appreciated the support Nigeria had been receiving form the UK in the fight against terrorists.
He said, "Madam Theresa, I welcome you most sincerely to Nigeria and I am very grateful to the British government under your leadership for the help you are giving us in the area of security.
"The training team that goes to our institutions in Kaduna and observe the operations in the North-East mainly, we thank you very much for that.
"I also thank you very much for the improvement in trade relationship between us since you assumed office. "We are nervously watching developments about Brexit, because we know that relationship has been on since 1938 and people are here looking at the opportunities in education, businesses and so on and I assure you that we will take the necessary steps to improve on the trade relationship between our two countries."
The Bilateral Agreement on Defence & Security Partnership was signed by National Security Adviser, Babagana Monguno and the British Deputy National Security Adviser, Christian Turner.
?? ?? pic.twitter.com/32DS9TYG8c

— Presidency Nigeria (@NGRPresident) August 29, 2018
Buhari also spoke about the effects of the drying up of Lake Chad and the need to resuscitate it, to boost farming and fishing activities within the Chad basin.
In her remarks, May said following the exit of the UK from the European Union, there would be need to seek more economic ties with Nigeria. She pledged that the UK would assist Nigeria in the fight against terrorists as well as human trafficking.
She said, "I'm delighted to be able to here in Abuja and to continue the very good discussions we had when you were in London in April."As you have said, we already have very good cooperation between the UK and Nigeria which include education, defence, security and trade relations.
"We are ready to cooperate together on global and regional issues; to strengthen that cooperation and partnership, I have with me a business delegation, as we look to enhance our ties in future and explore more trading opportunities.
"We will also be looking to work together to step up efforts against security threats from Boko Haram, human trafficking and the likes. And of course also cooperate to fight corruption and lifting people out of poverty.
"I am pleased that I am going to visit Lagos as well because as far as our partnership is working, we are doing well in Nigeria. We look forward to enhancing this relationship in future."