Oshiohmole Promises APC Would Respect INEC Guidelines In Conducting Party Primaries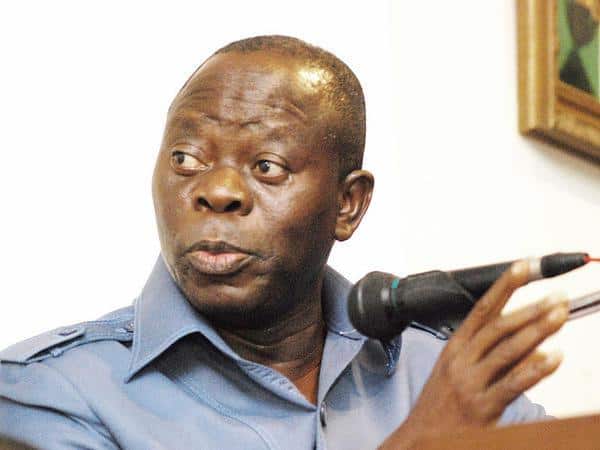 APC Assures Of Following INEC Guidelines
The national chairman of the APC, Adams Oshiomhole, has given assurances that his party would comply with electoral guidelines, fairness and justice as well as observe all the principles of internal democracy while conducting its forthcoming party primaries.
Naija news Understands that Oshiomhole made this known after the APC caucus meeting held at the Presidential Villa, Abuja,  yesterday night.
He also confirmed that the meeting discussed the upcoming party primaries based on the timetable and schedule of activities for the 2019 general elections as released by the Independent National Electoral Commission (INEC) in January.
"The meeting just had a conversation around the forthcoming primaries. "As you know, based on INEC timetable on primaries, this is the season from the president down to House of Assembly and the exercise must end on October 7 according to INEC guidelines.
"We are obliged to comply with the guidelines because the guidelines are derived from the provisions of the Electoral Act.
"So, we basically discussed how to ensure full compliance with the INEC guidelines and also ensure that that we observe all the principles of internal democracy, participation, ensuring fairness and justice. "I think those are the issues basically,'' he said.
The chairman maintained that APC as the governing party had since resolved to respect the electoral act and the APC's constitution while conducting its activities to ensure justice for all members.
He announced that the resolutions at the APC caucus meeting would be tabled at the National Executive Committee (NEC) meeting of the party fixed for Thursday for deliberation and possible endorsement.
"By Thursday we will go to NEC where the formal decisions will be rectified and once they are rectified there will be no problem; they are not being kept because every member of the party and indeed Nigerian are entitled to know how we agreed about the exercise.
"But I think everybody has confidence that we will do very credible primaries to ensure that those who fly the flag of the party have the mandate of their various constituencies,'' Mr Oshiomhole said.
The meeting was attended by the vice-president Yemi Osinbajo and members of the National Executive Committee of the APC led by its chairman.
Others at the meeting were APC governors and some members of the national assembly from the two chambers.