Akpabio Pays Buhari A Visit In London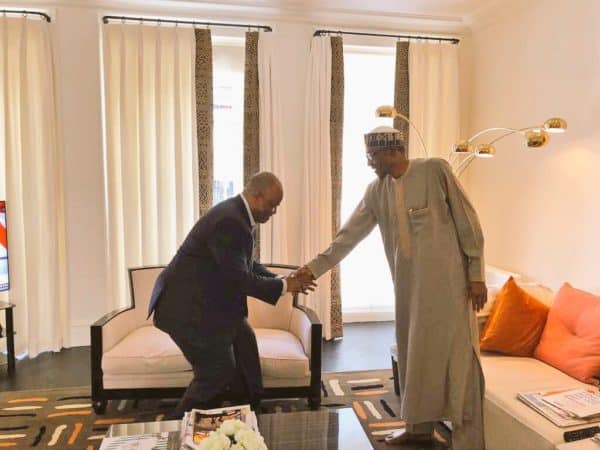 Godswill Akpabio, the Senate minority leader, who indicated his intention to leave the People Democratic Party (PDP) for the All Progressive Congress (APC) in four days time has visited President Muhammadu Buhari, who is on vacation in London.
Akpabio has earlier visited  Asiwaju Bola Ahmed Tinubu, the national leader of the APC in Lagos and also met with Vice President Yemi Osinbajo in Abuja on Thursday.
Akpabio intention to leave PDP would brighten the hope of the ruling APC, has they recover from the loss of about 13 senators, 3 governors and 30 members of the federal House of Representative in the last two weeks.
The senate majority leader is slated to leave PDP officially on the 9th of August in Ikot Ekpene, Uyo.
APC Newspaper on its Twitter handle announced Saturday night the news that Akpabio was switching allegiance : "We can confirm that, HE, Sen (Dr) Godswill Akpabio is a card carrying member of @OfficialAPCNg effective August 4, 2018. @OfficialPDPNig has lost him. Official Reception in days".
And APC United Kingdom in another tweet set the date for the defection: "Acting President, @ProfOsinbajo accompanied by Senator (Dr ) Ita Enang, and leaders of the APC in Akwa Ibom to formally receive Senator (Dr.) Godswill Akpabio into APC at Ikot Ekpene Stadium on Thursday 9 August, 2018. All lovers of Democracy are cordially invited".
Buhari's liaison officer with the National Assembly, Senator Ita Enang, also took to his twitter handle to confirm the unfolding development
Download NAIJA NEWS app: