Goodwill Akpabio Reportedly Nursing Senate Presidency Ambition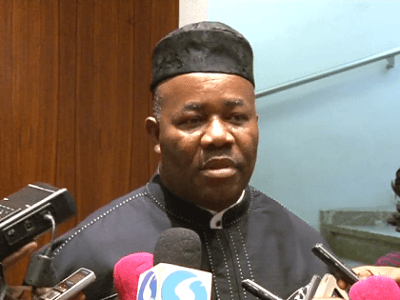 There are strong indications that the Senate Minority Leader, Godswill Akpabio, is defecting to the ruling All Progressives Congress (APC),  so as to become senate president.
Okoi Obono-Obla, Special Assistant to President Muhammadu Buhari on Prosecution revealed on social media that Akpabio will be received into APC on Thursday by the Acting President Yemi Osinbajo and other top leaders of the party at a rally in Ikot Ekpene, Akwa Ibom state.
Mr. Obono-Obla also posted on Facebook a photo of Mr Akpabio with the leader of APC, Chief Bola Tinubu.
Information has been making the rounds since last week that Mr Akpabio, who is a former governor of Akwa Ibom, was perfecting his plan to leave the PDP.
There were speculations that the defection was delayed because Mr Akpabio was negotiating for some "favourable terms" for himself and his political supporters in the state.
It is claimed that the senator was asking for the position of the senate president and also that he should be made the APC leader in the state and the party political structure handed over to him.
PREMIUM TIMES, however, has not been able to independently verify these claims.
Mr Obono-Obla, in an interview with PREMIUM TIMES, said: "Senator Akpabio is defecting to the APC, you can take that to the bank"
Download NAIJA NEWS app: