Indisposed Olisah Metuh Seen Healthy At Ekweremadu's Residence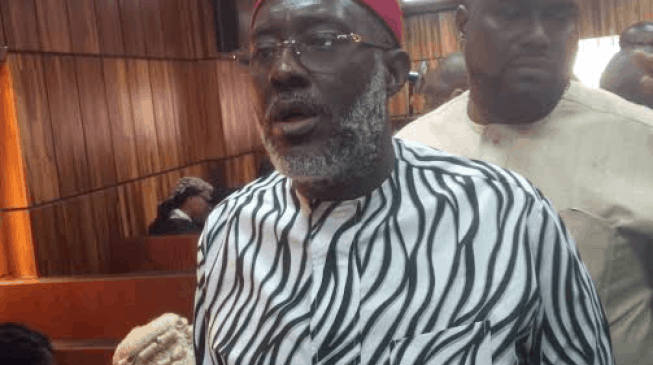 Olisah Metuh Seen, Well, Without Crutches At Ekweremadu's Residence.
Former publicity secretary of the People's Democratic Party (PDP), Chief Olisah Metuh 's current health status can be currently described as very conscious and healthy.
This is as The nation reports that, Metuh was seen looking vibrant and excited at the Deputy Senate President, Ike Ekweremadu's residence on July 24 in the wake of an alleged siege to Ekweremadu's residence by operatives of the Economic and Financial Crime Commission (EFCC).
Also, He was neither wheeled nor lay on a stretcher as he laughed heartily and exchanged banter with his party members and senators.
The photograph of his visit, which later went viral on the social media, was greeted with anger and knocks from Nigerians.
In a flurry of tweets and reactions on online news platforms, some furious Nigerians trolled him for allegedly stage-managing his ill-health to curry sympathy in court.
Metuh had come into prominence during Goodluck Jonathan's reign as President, and was always on hand to defend the approach of the Jonathan government to the challenging situations confronting the government.
With the loss of PDP in the 2015 election, however, Metuh parted ways with his bubbly mien, having been arraigned for allegedly collecting N400 million from the former National Security Adviser, Sambo Dasuki, who was alleged to have masterminded the misappropriation of more than $2 billion funds meant for the purchase of arms to fight Boko Haram insurgents in the Northeast.
Metuh's efforts to prevent his prosecution on the basis of a no-case submission before the court were fruitless. But no sooner had his trial commenced than his sound health suddenly collapsed. He was either placed on stretcher or reclined on wheelchair each time he had his day in court, cutting the sight of a dying man.
On one occasion, the trial judge, Justice Okon Abang, had ordered Metuh to appear or risk being arrested.
Metuh's counsel, Onyeachi Ikpeazu (SAN), however, hinged the PDP chieftain's absence in court on his failing health and admission at the Nnamdi Azikiwe University Teaching Hospital, Nnewi.
On March 14, Metuh sought the permission of the court to undergo urgent medical care in the United Kingdom, claiming that he had suffered a spinal cord-related ailment and lost sensation in his lower limbs. He pleaded passionately for the return of his international passport to enable him seek treatment abroad.
"The issues raised in this application have already been determined in the two previous rulings on the matter. There is nothing new in this application."
His later appearance in court on May 21 caused a pandemonium as he slumped on his way to the dock for continuation of his trial. But Justice Abang, unperturbed by the development, insisted on proceeding with Metuh's trial while the latter remained on the floor. Angered by the judge's decision, Metuh's team of lawyers, led by Mr. Emeka Etiaba, SAN, pulled out of the case.
Source: Naija News