Some Prominent Leaders Are Begging Us To Free Corrupt People – Presidency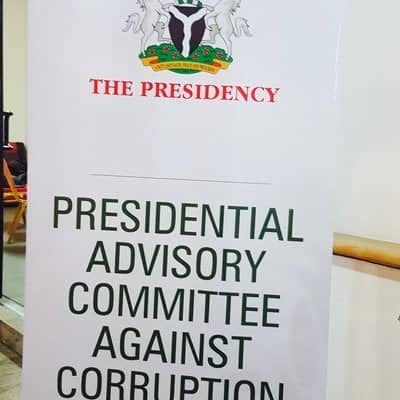 PACAC Urges Nigerians To Join Fight Against Corruption
The Presidential Advisory Committee Against Corruption, PACAC, yesterday expressed shock over the attitude of some prominent Nigerians who are begging on behalf of corrupt people in the society, to be pardoned.
The body disclosed this through its Executive Secretary, Professor Bolaji Owasanoye at the special public lecture organised by Pinnacle in honour of Mr. Gbola Sokoya's 60th birthday in Lagos.
Owasanoye said the culture of begging is one of the biggest problems the country is currently facing, which has denied the country from moving forward.
His words: "In the fight against corruption, we get strange requests from people begging on behalf of criminal and corrupt people; and you wonder whether they have lost their sense of value and can no longer draw line between what is right and wrong."
Owasanoye, who is currently chairman-designate, Independent Corrupt Practices Commission, ICPC, said that the begging culture problem cuts across different aspects of life. The country needs to re-orientate people on the cost of corruption to the development of Nigeria."
He also said: "We have a huge number of youths that are unemployed and unemployable, the reason being that we are used to begging culture in our society. People beg to get admitted, to pass exams, for youth service, for jobs which they are not qualified for and we expect a turn around for good. If we are going to be sincere with ourselves, we should know that it is not possible."
In his remarks, Professor of Management and Associate Dean for Graduate and Executive Education at Middle Tennessee State University, USA, Professor Sesan Sokoya said that Nigeria needs to train young people for the digital economy for the industrial revolution to happen.
Source: Naija News