See Details Of Ekiti 2018 Election Result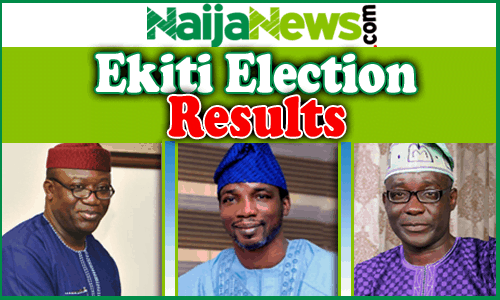 The Ekiti State Governorship election voting process is gradually coming to a conclusion and results are getting collated gradually.
The Unofficial results from the the Ekiti 2018 governorship election have begun coming in from the polling units across the state.
Over thirty candidates are vying for governorship seat, but many believe it is a two horse race between Olusola Eleka of People's Democratic Party, and Kayode Fayemi of the All Progressive Congress.
Stay tuned and keep refreshing this page for the latest updates on the results.
See Details Of Ekiti State 2018 Governorship Election As Announced By INEC
| NUMBER | LG | APC | PDP |
| --- | --- | --- | --- |
| 1 | Ido- Osi | 12342 | 11145 |
| 2 | Oye | 14995 | 11271 |
| 3 | Ilejemeje | 4153 | 3937 |
| 4 | Irepodun-Ifelodun | 13869 | 11456 |
| 5 | Gbonyi | 11498 | 8027 |
| 6 | Efon-Alaaye | 5028 | 5192 |
| 7 | Moba | 11837 | 8520 |
| 8 | Ijero | 14192 | 11077 |
| 9 | Emure | 7048 | 7121 |
| 10 | Ikere | 11515 | 17183 |
| 11 | Ekiti West | 12648 | 10137 |
| 12 | Ikole | 14522 | 13961 |
| 13 | Ise-Orun | 11908 | 6297 |
| 14 | Ekiti East | 12778 | 11564 |
| 15 | Ekiti South-West | 11015 | 8423 |
| 16 | Ado-Ekiti | 28111 | 32810 |
| Total | |  197,459 |  178, 121 |