IPI Laments Killing Of Journalists, Call On Government To Be Pro-Active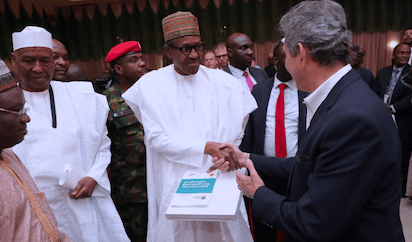 IPI Expresses Concern Over The Insecurity of Journalists In Member Countries Including Nigeria.
The Executive Director of IPI, Barbara Trionfi has expressed worry that independent journalism is under attack and press freedom has eroded all over the world.
Trionfi disclosed that "At least 43 journalists have been killed so far in 2018 in places like Afghanistan, Mexico, India, Pakistan or the Philippines to mention a few. Journalists are denied access to justice. They are threatened and insulted on social media.
The Executive Director was speaking after at the 67th edition of International Press Institute (IPI) world Congress on Thursday in Abuja.
Naija News earlier reported that Buhari, in his opening speech had called for good governance to kill insecurity and hate speech.
The IPI is a global organisation dedicated to the promotion and protection of press freedom and the improvement of journalism practices
Trionfi continued, "From Mexico to the Philippines, from Zimbabwe to Turkey, from Russia to Ethiopia, journalists are being imprisoned. They are directly targeted and labeled as traitors and enemies of the state and they are killed, shot in front of their houses or on their way to work,"
Trionfi said the murderers know that doing these to journalists is the easiest way to silence them and ensure that the stories of corruption they are investigating or the wrongdoings they have uncovered will never be revealed.
While she said Nigeria enjoyed free press she noted that "safety has been a serious problem for journalists, not only those covering the areas where insurgents are active but also journalists covering corruption have been targeted,"
She urged the government to guarantee the safety of journalists across the world while lamenting that safety has been a serious problem for journalists in Nigeria, despite freedom of the press.
In her remark Nduka Obaigbena, President of the Newspaper Proprietors' Association of Nigeria (NPAN) stressed the need for journalists in Nigeria to fight for the rights of the citizens and have continued to enjoy freedom.
Obaigbena, who spoke on the bordering issue of immigration noted that " Immigration remains one central issue all over the world. "In Europe and on the sea of the Mediterranean, a lot of Africans are dying".
"If we all can also report it in a robust way, perhaps we can also reverse this. The issue of course, l believe is economic. With $3 or $4 million dollars here in Nigeria, we can keep them here," he said.
According to him, Nigeria is facing security challenges and is trying to deal with it but we must remember where it started. After democracy came, we were not concerned about the size of our security forces with regards to our armed forces before Boko Haram set sail.
"Now, we are confronted by a menace and we all have to put our heads together to rebuild our total security infrastructure, bring police teams to the communities, to the cities, so that we can ensure the safety of our citizens and therefore promote economic growth," Mr Obaigbena concluded.
The IPI institute was founded in October 1950. It has members in over 120 countries.