Police Demand Written Explanation From Saraki, Cancel Summon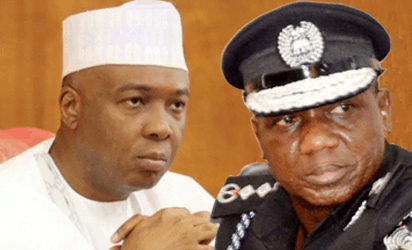 The President of The Nigerian Senate Bukola Saraki,on Monday disclosed that he was no longer required to appear before the police for questioning.
The Senate President, In a post on Twitter, disclosed that the Nigeria Police has formerly communicated to him for him to answer questions bordering on the robbery in Offa, Kwara State, in April, and not necessarily for him to appear before force.
"Following my earlier tweet, I have received the letter from @PoliceNG. They are no longer asking me to appear at any station, but to respond in writing to the allegations within 48 hours — which I plan to do," Mr Saraki said.
Naija News understands that Saraki made this known after a close door meeting with Vice President Yemi Osinbajo and the Inspector General of the Police Ibrahim Idris, including Lawal Daura, the head of State Security Service, at the State House.
According to PREMIUM TIMES, the senate president said he dispatched his security detail to the Force Headquarters in Abuja to ask the police for an invite when none came. Four hours earlier, Mr Saraki announced he was yet to get a police invite.
The Nigeria Police force had earlier invited the Senate President after he was named as one of the sponsors of arrested suspects responsible for Offa robbery.