Breaking News: Oyegun Withdraws From APC Chairmanship Race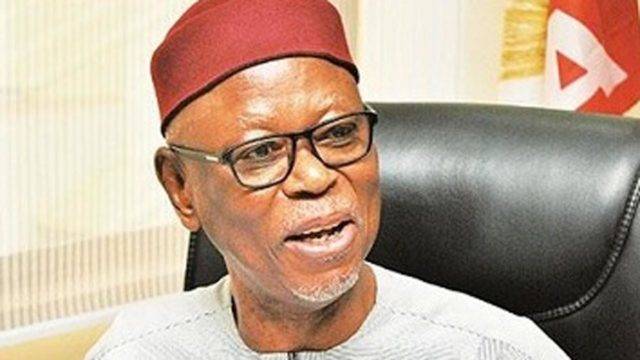 Chief John Odigie Oyegun, national chairman of the All Progressives Congress (APC),has finally step aside as he would not re-contest the position at the forth coming national, convention.
Naija News recalls that President Muhammadu Buhari had endorsed the candidacy of governor of Edo State and Chief Oyegun's kinsman, Comrade Adams Oshiomhole for the National chairmanship position.
Oyegun diclosed in an interview at his residenve that he was quitting the race based on his personal conviction and in the best interest of the party for him not to seek another term in office.
Oyegun said even though he had desired to re-contest the position he has decided that in the interest of the party, he will not be seeking reelection and has therefore decided to withdraw from the race.
He said "I have taken this decision without prejudice to my commitment to the party in helping to solve some of the subsisting and emerging difficult issues and my ability to continue to provide necessary leadership.
"However, I believe that the party faces difficult days ahead and all critical stakeholders in its leadership would be required to bind together for a common purpose. Therefore, the less contentious our national convention is the better for the party.
"I have always sought to be part of solving the problem of APC. I do not intend to be part of the problems for APC to solve. It is for this reason I hereby declare that I will not be seeking re-election as the National Chairman of the All Progressives Congress (APC).
"However, I will continue to perform my functions as the National Chairman of the party till my tenure officially ends on Monday the 25th of June when. New set of party executives will be inaugurated."