APC Convention: Buhari Seeks Support For Oshiomole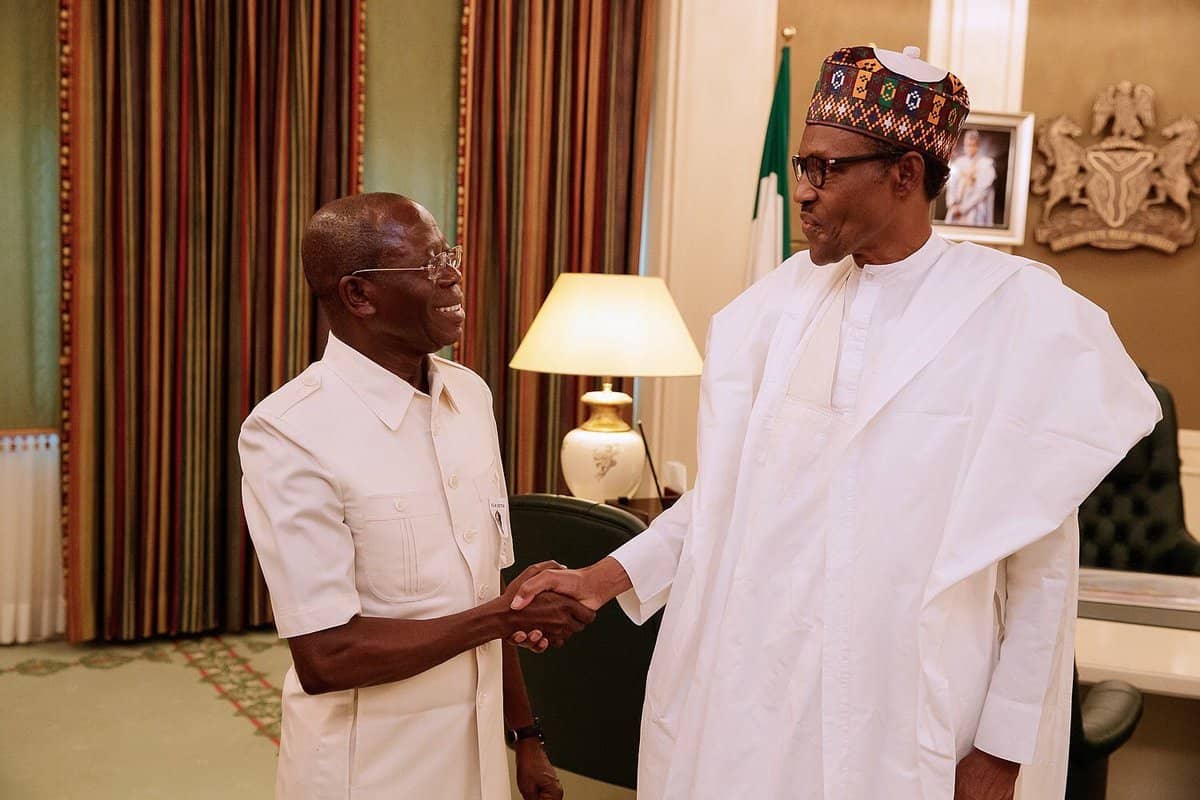 President Muhammadu Buhari had a meeting with state governors under the umbrella of the ruling All Progressive Congress on Tuesday evening, the meeting was held behind closed doors inside the Presidential Villa, Abuja.
According to a Presidency official who spoke with newsmen on the condition of anonymity, the main aim of the meeting was to aid the emergence of a former Edo State governor, Adams Oshiomole, as the party's national chairman.
Naija News had earlier reported that the party's national convention that will bring the emergence of party's National Working Committee will take place on May 14 in Abuja.
There has been no clear picture if, Chief John Odigie-Oyegun, will be seeking re-election at the convention but the President appears to be throwing his weight behind Oshiomole's candidature.
"The President called this meeting with the APC governors to ask them to back Oshiomhole's candidature. That's the purpose of the meeting administration that is the President's position," the Presidency source said.
The APC has decided to retain the current zoning formula for its national offices. Both Odigie-Oyegun and Oshiomhole are from Edo State in the South-South where the position of the APC national chairman is zoned to.
Naija News reported the statement of the current chairman, Odigie-Oyegun who described the purported endorsement of Oshiomhole as the next chairman of the party as childish.
Odigie-Oyegun, also said he had yet to decide on whether or not he would seek re-election at the party's national convention or not.
The chairman of the ruling party spoke with some journalists in Abuja on Tuesday. He said he had concluded his consultations on whether he would seek a re-election or not.
He, however, did not disclose the outcome of the consultations.
Report has it that both Odigie-Oyegun and Oshiomhole among others, are in the race for the office of the national chairman of the APC.
Also, as earlier reported by Naija News, some state Chairmen of the APC in the South-South geopolitical zone said they had rejected attempts by the Zonal Vice-Chairman, Prince Hilliard Eta, to force some members of the party to adopt Oshiomhole as a chairmanship candidate from the zone.
The party chairmen explained that though any member from the zone was free to aspire for the position, it was necessary to give Odigie-Oyegun right of first to contest the national chairmanship position at the forthcoming national convention of the party.