Kingsley Moghalu Picks YPP As Political Party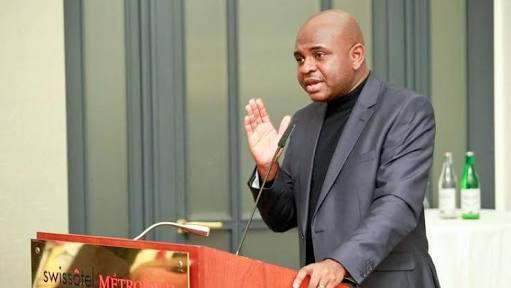 The former Deputy Governor of Central Bank of Nigeria, CBN, and 2019 presidential hopeful, Professor Kingsley Moghalu, has declared to seek election under the Young Progressive Party, YPP.
Moghalu who made the politcal party  known at a press briefing, said the political party among several others registered by the Independent National Electoral Commission, INEC, was the only one that could give Nigerians hope.
The 55-year-old Anambra-born declared on February 28 to run for president without disclosing which of the 68 registered political parties he would be running on.
Mr Moghalu said his choice of YPP was borne out of thorough assessment as he did not want a party with moneybags and recycled politicians.
He said he needed a party with an ideology that matches his and a structure across the country that when developed will be a good platform to win as he is in the race to win.
Explaining why he did not reveal the platform on which he would be running then, he said there were many parties reaching out to him and he needed to build his identity outside a platform before choosing a platform so he would not be judged by the platform.
"Many people have been wondering which political party I will be joining. At first I did not announce my political party, it was deliberate, it was part of our strategy.
"I joined them (YPP) with a view to becoming their candidate and a flag bearer of the party. I wanted to be a part of a democratic movement not a polity of greed and settlement.
"The reason I didn't announce my political party in the first place was one because there were so many parties were approaching me so why rush into choosing a party. Why not evaluate.
"Because I had not been a politician before, I needed Nigerians to know me better and know what I stand for much more clearly before I announce the pokitcal platform."
He said he avoided the ruling All Progressives Congress (APC) and the Peoples Democratic Party (PDP) because he saw them as parties filled with recycled leaders.
Download NAIJA NEWS app: