2019: Obasanjo Seeks Afenifere's Help To Unseat President Buhari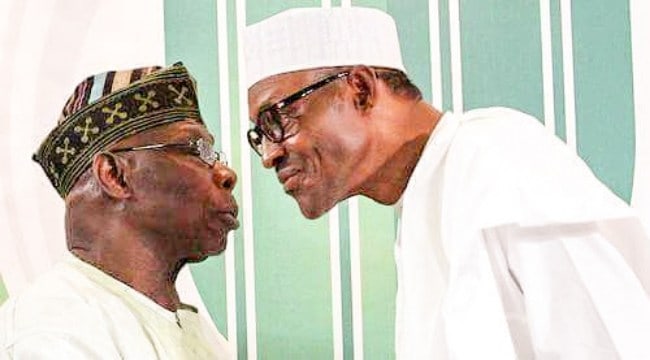 Obasanjo Seeks More Support For 2019 Presidential Plans
Former president Olusegun Obasanjo, has reached out to the pan-Yoruba socio political organisation, Afenifere, to join him in his efforts to unseat President Muhammadu Buhari during the 2019 presidential election in Nigeria.
Obasanjo, had specifically during his visit to Afenifere's leader, Chief Reuben Fasoranti's Akure residence, asked for the group's support.
The former president lamented how the former leadership of the group refused to give him needed support about 20 years ago when he approached them in similar version.
He said: "I remember visiting Pa Abraham Adesanya thrice in Lagos, before the election, and I was asked to join Afenifere and the Alliance for Democracy (AD) then, but, I told them that the AD was not my choice of political party.
"Pa Adesanya told me if I joined, things would change but I refused to join them.
"I went back the second time but they refused to work for my emergence.
"I went there, again, the third time, but, Afenifere maintained their stand; they refused to vote for me but I secured my votes outside Yorubaland, although they supported me in 2003; for my re-election."
"Our priority is now one, if we do not join hands to repair this country now, it will collapse and this could be disastrous."
In his response, the Afenifere leader assured Obasanjo of the group's support, to join hands with him, in the struggle.
"We want to encourage you in your struggle to make Nigeria the best. You are fearless and that is one of the traits of a good leader.
"We have been watching you and your dreams of a better Nigeria shall be realised.
"Nigerians are at crossroads; we are tired of the killings, kidnapping going on across the country and the president is mute and silenct about it," he said.
Fasonranti also decried the state of the country and the incessant killings and general insecurity in different parts of the country.
"We are in full support of all the letters written by Obasanjo to president Muhammadu Buhari on the state of the nation. We are dissatisfied with the state of affairs in the country. The country is not being run properly.
"It will be the joy of everybody to present a formidable team to confront the evil government that is there now.
"Nothing is being done properly in this country presently.
"Look at the killings in the North, the president is very silent about it. We are all Nigerians; if he can keep silent about the killing of his people; that is bad enough."
Naija News recalls that the Obasanjo Coalition Movement, recently adopted the African Democratic Congress (ADC) as the party on which platform it hopes to actualize its political ambition.