Stolen Mace: Omo Agege And Ali Ndume To Appear Before Investigative Committee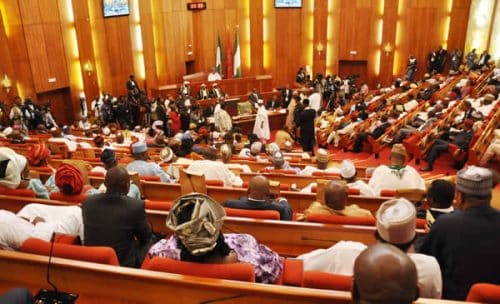 Omo Agege And Ali Ndume To Appear Before Senate Over Alleged Roles In The Stolen Mace Saga
In the continued investigation of Stolen mace Saga, the Senate and House of Representatives joint adhoc committee investigating the matter has summoned Ovie Omo-Agege (APC, Delta) and Ali Ndume (APC, Borno) respectively for alleged roles in aiding the invaders who stole the Senate mace.
The chairman of the investigating committee, Today Bala Ibn Na'Allah, issued the summon at the committee meeting in Abuja.
Heads of different security agencies within the National Assembly had earlier alleged that Mr Omo-Agege led seven unauthorised personnel into the red chamber and disrupted plenary.
It was also alleged that Mr Ndume hindered the mace keeper from taking away the mace to safety.
"Based on the testimony of the sergeant at arms before the committee, you (Mr Ndume) are alleged to have prevented the mace keeper from taking away the mace to safety.
"The committee has, therefore, deemed it necessary to invite you in order to respond to that allegation.
"As regards to Omo-Agege, based on the testimony of the DPO, the SSS and the sergeant at arms, you are alleged to have entered the National Assembly accompanied by seven persons who allegedly took the mace of the Senate during plenary session on April 18, at about 11:30 a.m.
"All those who testified, stated that the said people were cleared into the chamber based on your confirmation that they were with you.
"The committee,in pursuance of this,has deemed it necessary to formally invite you to respond to these allegations on Wednesday, May 16 at 11:00am,"
Mr Na'Allah read out the format of the letter to be issued to the summoned lawmakers.
Naija News recalls that the mace was stolen on  April 18 was later recovered by the police, who said they are still investigating the incident.
Meanwhile, Senator Ovie Omo-Agege who was expected to resume legislative duties was absent at plenary today.
The senator was earlier suspended by the senate leadership but the suspension order was subsequently overturned by a court of law.