President Buhari's Integrity Has Earned Respect For Nigeria From Other Countries – Kalu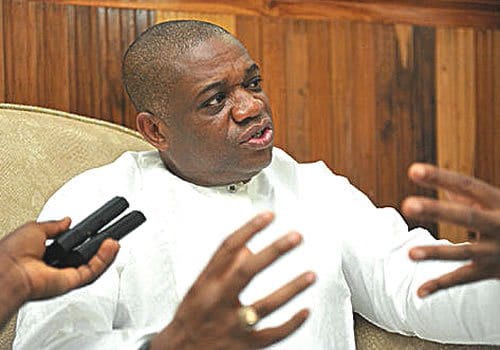 Orji Uzor Kalu Passes Vote Of Confidence On Buhari's Administration
A former Governor of Abia state, Dr Orji Kalu, has submitted that Nigeria is respected by the international community due to the integrity of President Muhammadu Buhari.
Kalu stated this in Lagos while speaking with journalists.
He also applauded the President's last visit to the United States of America, describing it as a success.
He noted that Buhari was invited to the US by President Donald Trump only few weeks after the Nigerian leader met with the British Prime Minister, Theresa May.
Kalu said:"It is only showing the position and confidence the world powers are reposing on Buhari and that shows that the door is opened.
"Some other presidents needed state visits to the US but they didn't get it. A matter of less than three years, Buhari is being given red carpet in the White House.
"So, we are very proud that our image is changing and everybody is respecting Nigeria. The world powers have confidence in what he is doing for us."
Kalu also stated that Buhari's administration is working very fast to ensure it stabilizes the economy and ensure Nigeria were receiving the positive impact of its programmes and policies.
He also debunked the claim that the governors were not in control of the security apparatus, adding that they were being economical with the truth.
Kalu said:" The recipe is for the governors to stand up. I have been a governor before. They should use the security votes they have to fight against insecurity.
"As a state governor, I summoned the Commissioner of Police, I summoned the Brigade Commander at any time of the day and they must come for us to discuss security issues.
"I get angry when people keep blaming Buhari for everything. Look at Gov. Akinwunmi Ambode, he is not calling anybody for anything. He is a good governor.
"Those governors who are complaining should do their job. They should put the security funds where they are supposed to be."