Ebonyi Federal Polytechnic Lecturer Threatens To Renounce Nigerian Citizenship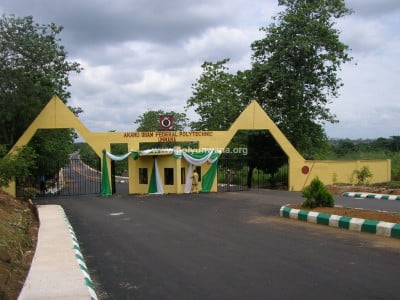 A lecturer in Department of Ceramics and Glass Technology, Akanu Ibiam Federal Polytechnic, Unwana, Afikpo, Ebonyi, Mr Victor Koreyo, has threatened to renounce his Nigerian Citizenship for the reason he described as social Injustice.
In a Letter he wrote to President Muhammadu Buhari, which was made available to News Agency of Nigeria, Mr. Koreyo  said he was demoted for a period of eight years by the management of the institution and urged the President to endorse his request.
NAN Understands that the Federal Government gave a directive in 2007 imploring lecturers to give addition qualification relevant to the job they do.
It was also discovered that the 7th Governing Council of the institution gave Mr. Koreyo an ultimatum of two years to produce a Masters Degree from a foreign institution or he would be dismissed from service.
Mr. Koreyo who hails from Nasarawa State alleged that since 2010 till date, the institutions had refused to approve his application for staff development opportunity because the Igbo constituted principal officers in the school.
According to him, this is social injustice that is not in line with the 1999 constitution of the Federal Republic of Nigeria.
"I love to continue as citizen of this great nation on earth.
"But since I do not have the financial power or connection to challenge the Rector to obey the Federal Government's directives in my favour, I decided to take this peaceful action.
"I believe this peaceful action and step of honour will prevent the rector from killing me by premeditated frustration of my constitutional rights to social justice as the citizen of Nigeria.
"I have nursed this feeling of suicide to end these eight years of frustration by the Rector and officials of the Akani Ibiam Polytechnic division of tertiary education department of the Federal Ministry of Education.
"And have decided the renunciation of my citizenship by birth will be the best way to peacefully end my quest for social justice at the ministry of education and finally resign from Federal Public Service of Nigeria," he said.
An employee of the Ministry of Education who spoke to NAN said that Mr. Koreyo Matter is being examined by the Ministry and the newly constituted council of the institution. He, therefore huge him to be patient.
"I just got to know that the new council was already handling the matter and it is a national issue.
" The Federal Government has constituted a body to look into this problem because it is a general problem and not peculiar to him alone.
" A directive was given to some staff to go and acquire more knowledge and those that brought their master degrees in relevant disciplines were upgraded.
"But in his own case, where he got his masters is not relevant and is not in line as at that time.
"I want to say that the matter is before the new council so he should exercise patient," the Ministry source said.
Dr Edmond Oyeneho, a former chairman of the Academic Staff Union of Polytechnics, Akanu Ibiam Federal polytechnic, Uwana chapter, told NAN in Afikpo that the institution was acting on instruction.
He said the policy, which upgraded the course content of Polytechnic education to be at par with University education, also mandated lecturers in Polytechnics without Master degrees in their core areas to upgrade.
He explained that the policy took about three years before its implementation started across Polytechnics in Nigeria.
He noted that many lecturers in the polytechnic system, who had fallen short of the new requirements had to enroll for either Master in Science or Master in Arts degrees programmes in their core areas.
"At the expiration of the three years grace period all Polytechnics in Nigeria including Uwana implemented the policy by demoting all lecturers in the system without Master's in their core areas to lecturer 1.
"Those who went and remedied their situation came back and were reinstated to their former positions.
"Koreyo was therefore in line with the policy demoted from the senior lecturer position he previously occupied to lecturer 1 because of his failure to upgrade his situation.
"He is a lecturer in the department of Ceramics and Glass Geology but he went to Federal University of Technology, Owerri (FUTO), to do a Master degree programme in Management Project and was awarded Master Business Administration (MBA).
"The academic programme did not fulfill the NBTE requirement because MBA is a professional programme, while Master of Science (M.Sc) is an academic qualification required to teach in Polytechnics and universities, " Oyeneho said.
Oyeneho, however fualted Mr. Koreyo's threat to renounce his citizenship of Nigeria, saying that the institution would not be blackmailed and forced to reinstate him to his former position in disregard to existing policy direction.
"He is not alone in the situation and it will be a disobedience to existing NBTE policy to isolate him for preferential treatment.
"The MSc programme was sponsored by TETFUND with N5 million study grant and affected lecturers receive their full monthly salary throughout the duration of the academic programme," he added.