See Why President Buhari Declared Second Term Bid Shortly Before Traveling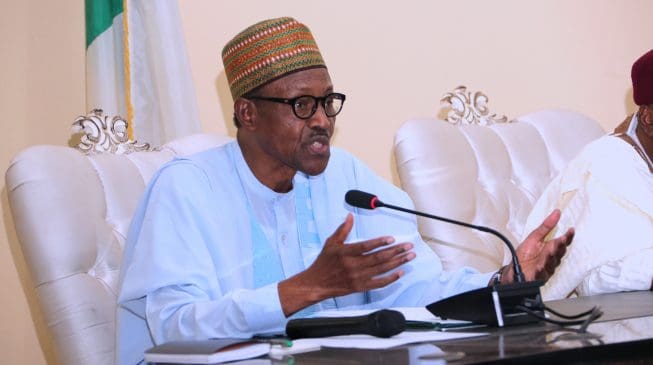 President Muhammadu Buhari today revealed why he announced his second term bid before traveling to the United Kingdom.
He stated today that there were too many controversy about the his second coming, while receiving the arch bishop of Canterbury,Justin Welby, at the Abuja House, London
President Buhari said that a lot of issues are still pending and should be focused on,while maintaining that politics shouldn't be a distraction.
"I declared before leaving home because Nigerians were talking too much about whether I would run or not. So, I felt I should break the ice. We have many things to focus on, like security, agriculture, economy, anti-corruption, and many others," he said.
"We needed to concentrate on them, and politics should not be a distraction. The majority of Nigerians appreciate what we are doing, and that is why I am re-contesting."
Buhari lauded himself for the impressive improvement made in the agricultural sector under his leadership.
"We have cut the importation of rice by about 90 percent, saving billions of dollars in the process. People who rushed into petrol money have now gone back to agriculture," he said.
"Even professionals have gone back to the land. Nigeria should be able to feed itself comfortably soon. I am so pleased."
He said the Herdsmen/Farmers clashes would soon be resolved as his government is doing everything necessary to ensure the nation returns to sanity.
"The problem is even older than us. It has always been there, but now made worse by the influx of armed gunmen from the Sahel region into different parts of the West African sub-region," the president said.
"These gunmen were trained and armed by Muammar Gadaffi of Libya. When he was killed, the gunmen escaped with their arms. We encountered some of them fighting with Boko Haram.
"Herdsmen that we used to know carried only sticks and maybe a cutlass to clear the way, but these ones now carry sophisticated weapons. The problem is not religious, but sociological and economic. But we are working on solutions."