President Buhari Receives Freed Dapchi Schoolgirls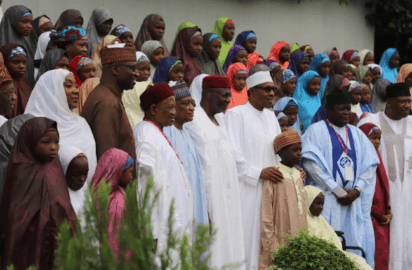 The abducted Dapchi Schoolgirls who were recently released from Boko Haram captives have arrived at the Presidential Villa in Abuja to meet with President Muhammadu Buhari.
The girls who regained their freedom on Wednesday were airlifted to Abuja the same day, aboard a military plane from Maiduguri, the Borno State capital after being handed over to the Federal Government by the military there.
President  Buhari  while recieving the girls in Abuja warned politicians against politicizing abduction of school girls in the country, saying security agencies will deal severely with people making political capital out of it.  He also threatened to  punish any security chief that allowed lapses in his job .