FG Patners With Libyan Government to Repatrite Nigerians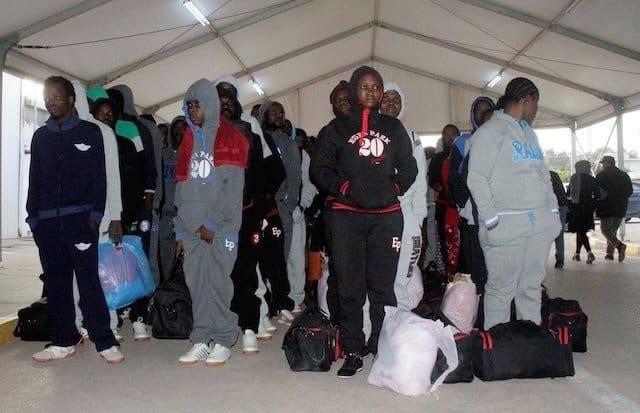 The Federal Government has promised to  work with Libyan Authority to negotiate the release of all Nigerians in Libya slave camps and ensure their repatriation safely to the country.
Foreign Affairs Minister, Geoffrey Onyeama who stated  this today in Abuja that negotiations were ongoing with some of the militia groups controlling some camps who were demanding money to allow access to their camps. The minister also said the outgoing Libyan Ambassador to Nigeria, Dr Attai Alkhoder, has promised his country's cooperation to ensure the release of Nigerians in the slave camps.
"I met with the Libyan ambassador who promised to cooperate on the issue of migrants; I let him know that we appreciate what the Libya is doing.
"We agreed on way forward, that the Libya government will continue to help us to access those camps where there are still Nigerians outside the control of the Libyan government," he said.
Onyeama stressed that the efforts required negotiations with the militia groups who were in control of the camps.
"We have been given some amount that we have to pay to those rebels before we can get our people out, but it has not been easy.
"There is an instance that it has to be negotiated down to 2,500 dollars per camp to get Nigerians out. There is another camp that we have to negotiate around that figure also,'' he said.
The Minister, however, said that not all Nigerians in Libya were irregular migrants, adding that there were some who were living legally in Libya.
"There are Nigerians who are actually in Libya legally and are doing their legitimate jobs and we have some of them who are actually useful in helping us to look for Nigerians in the country," he said.