Biafra: Ohanaeze Rejects FG Cattle Grazing Colonies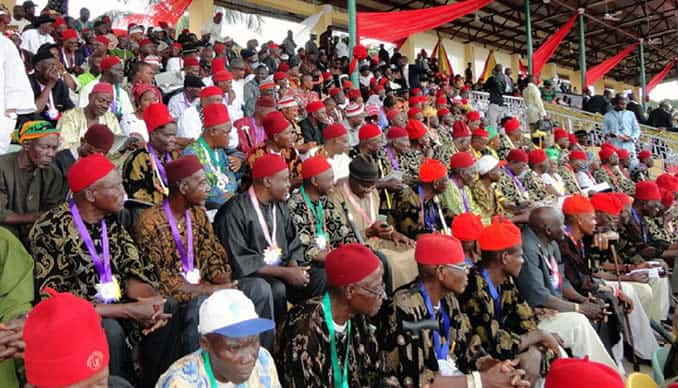 The Ohanaeze Ndigbo socio-cultural organization, has described as unacceptable, the plans by the federal government to create grazing colonies for the use of herdsmen.
The group also vowed to resist attempts by the government to take over their lands under the pretense of setting up grazing colonies as it maintained it would be at the detriment of other ethnic groups should the plans be allowed to go ahead.
The President, Ohanaeze Ndigbo, Enugu State chapter, Chief Chiedozie Alex Ogbonnia, made this postion known in a statement issued in Enugu, on Tuesday night.
The statement further advised the federal government to concentrate on true restructuring.
"We hereby state without fear of contradiction that establishment of grazing colonies is not the answer to restructuring Nigeria, an option which Ohanaeze is committed and disposed to.
"We are not unmindful of the palpable fears in many quarters, within and outside Nigeria, that there is a grand plot to impose a certain faith upon our people. Much as we will continue to work for and believe in the unity of Nigeria, our people will resist any move aimed at sacrificing us at the altar of that unity.
"Government should, therefore, refrain from initiatives that would tend to give credence to the alleged agenda of faith imposition."
"God Himself frowns at this kind of policy. According to the law of God, 'If anyone grazes their livestock in a field or vineyard and lets those animals stray and graze in someone else's field, the offender must make restitution from the best of his own field or vineyard," he quoted Exodus 22:5 as saying.
"The initiative is merely a more monstrous reincarnation of the dubious National Grazing Reserve Bill, which seeks to establish a National Grazing Reserve Commission that will acquire, hold, lease or dispose of any property, moveable or immovable for the purpose of carrying out its function.
"That this initiative amounts to internal colonisation of our political space basically because we cannot even challenge such unilateral acquisition in any law court in Nigeria without obtaining a leave or consent of the Attorney General of the Federation.
"That grazing colonies simply means a forceful takeover of people's ancestral lands and assigning same to Fulani herdsmen who shall use the land for grazing purposes.
"That this initiative amounts to a deliberate attempt by the government to take over our lands and hand over to Fulani herdsmen whose economy is anchored on cattle rearing.
"That Igbo economy, especially in terms of agriculture and other forms of development, is at risk on account of this initiative.
"That this amounts also to enacting a law that would be preferential and advantageous to one ethnic group at the expense and detriment of other component parts of Nigeria, especially Ndigbo.
"That the reasons given by the Federal Government to justify this action are vague, preposterous and, therefore, totally unacceptable to the good people of Enugu State and Ndigbo in general," the statement read.