FG kicks against mass burial of Nigerian migrants in Italy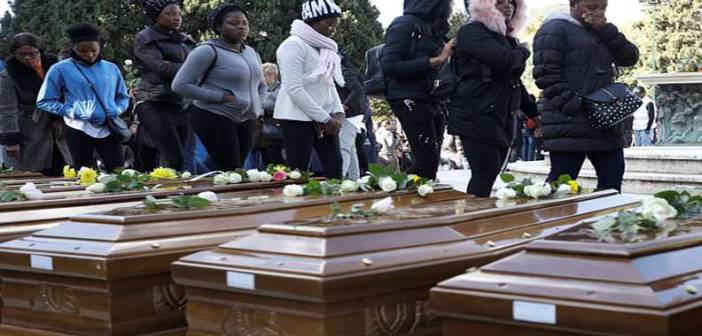 -FG seeks explanations from Italy over the hasty burial of migrants who drowned at sea.
-The government accused Italian authorities of burying the bodies without conducting proper DNA and post mortem tests.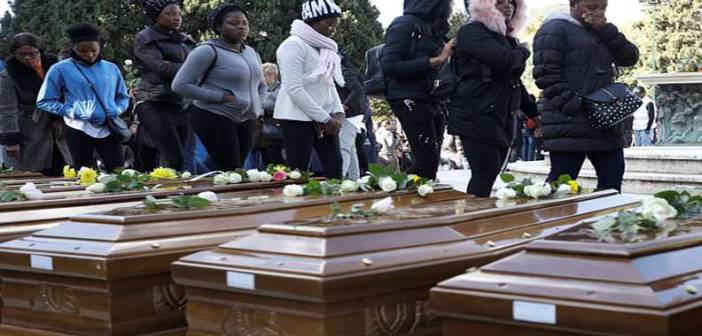 FG questions the burial of migrants by Italian authorities.
The federal government has expressed displeasure and shock over the sudden burial of the 26 migrants who drowned in the Mediterranean sea without obtaining appropriate approvals.
Addressing a news conference on Monday, Abike Dabiri-Erewa, senior special assistant to the president on foreign affairs, said the date quoted for the burial by the Italian embassy, differs from the date the migrants were actually buried.
According to her, the National Agency for Prohibition of Trafficking in Persons (NAPTIP), was informed by the Italian embassy that the burial would take place on November 26.
The victims were however, buried on November 17.
Dabiri-Erewa, alongside Abdulrahim Shuaibu, a representative of NAPTIP, said a letter demanding explanations on the matter had been sent to the Italian envoy in Nigeria.
"It was shocking to watch the burial of these migrants on television… the information from the Italian embassy to National Agency for Prohibition of Trafficking in Persons (NAPTIP) was the fact that these girls would be buried on November 26," she said.
"We are asking the Italian authorities, and we have communicated a letter through the Italian embassy here in Nigeria, why these girls were buried nine days before the agreed date.
"Secondly, where are the results of the pathological tests that were done, who conducted the DNA tests and how do we now identify that all 26 girls were Nigerians?
"From available information coming from Italy as I speak, about three girls can be identified to be Nigerians.
READ ALSO: Dangote set to commission $500m Plant in Congo
"Did Italy get the permission to go ahead with the burial of these girls no matter their nationalities?
"We appeal to the Italian authorities, we are going to take this up at the highest diplomatic level and we are going to get answers."
The presidential aide also disclosed that the director-general of NAPTIP was currently in Italy working out further communications on the next step to take.
"The fact is at the other end, they are not willing to save irregular migrants any more so it is going to get tougher and dangerous," she said.
"Yes, the administration should do the needful but the most important thing is awareness."