Lagos Govt unveils "Liberation Statue" to honour Fela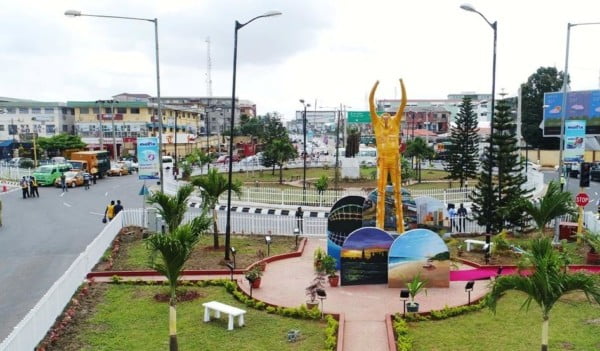 Lagos State Government has unveiled a "Liberation Statue" in honour of late Fela Anikulapo-Kuti, the afrobeat legend.
The Liberation Statue has been erected at Allen Avenue round-about, Ikeja.
Speaking at the unveiling, Lagos Governor Akinwunmi Ambode, said Fela fought for the liberation of his people from neo-colonialism and bad governance. He added that the statue of the "Abami Eda" symbolises Fela's legacy.
Governor Ambode said, "The phenomenon that the world knows as "Fela" was deeply rooted in the evolution of Lagos State. The story of music, art, entertainment and tourism in Lagos and Nigeria cannot be told without an eloquent mention of the 'Abami Eda'."
"On this day, October 15th, which would have been Fela's 79th birthday, the government and people of Lagos State celebrate ''Fela'' with the unveiling of this Liberation Statue. It has been 20 years since he passed on but the memories he left us with remain evergreen.
"Today we celebrate a man who voluntarily turned his back on a life of comfort and privilege, and took up his saxophone as a weapon to fight for the liberation of our people from neo-colonialism and bad governance.
READ ALSO: Felabration 2017: Femi Kuti and Omawumi thrill fans (video)
"This 'Liberation' statue is not an image of Fela but a symbol of Fela's philosophy.
"This artwork was created as a form of respect and remembrance to this legend; what he stood for and fought for with his music; his mythology; struggle for freedom; fight for human dignity; social consciousness; courage and Pan-Africanism."
One of Fela's daughters, Yeni Kuti, on behalf of the family appreciated the Lagos state government  for honouring their father "in a big way."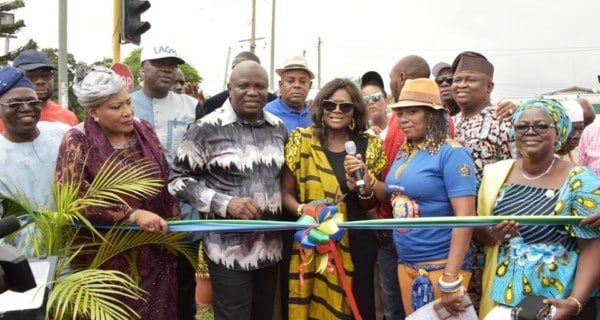 Yeni Kuti said, "Before people on social media will start to say the Fela has no head or it has no hand and so on, it is art and before you abuse us, let me answer quickly. It is art. How an artist feels is how he feels because if he had put a head and the head did not look like Fela, everybody will say the head did not look like Fela so now you cannot abuse the head because it is not even there.
READ ALSO: Felabration: Lagos govt to commission Fela's statue on 15th October
"The artist has said it is a spirit and when Fela was alive, he hated statues and so I think this effigy is a good representation of what Fela would have wanted because he did not like statues and that is why at the Museum you will notice that there is no statue of Fela.
"Everybody wants to do his statue and I have fought against it. So, this one I can accept it and so I want to thank the artist who designed it and also thank Governor Ambode for recognizing Fela in a big way.
The event was attended by many Fela's family members, notable Nigerians and fans of Fela.
Some of those in attendance include Yemi Ransome-Kuti, Yeni Kuti, Seun Kuti, Femi Kuti, Kunle Kuti, Motunrayo Kuti, Dotun Olukoye Ransome-Kuti, Olu Jacobs and wife, Joke Silva, Femi Falana, Fela's first manager, Benson Idonije, and a host of others.