Crisis ensues between Gov Aregbesola and Akeredolu over attack on Osun Commissioner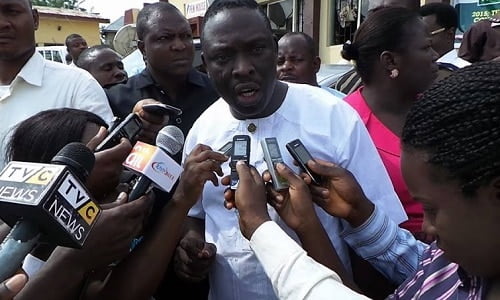 -Impending feud between Rauf Aregbesola and Rotimi Akeredolu over assault on Osun Commissioner, Bola Ilori in Ondo state.
Crisis looms between Osun State Governor, Rauf Aregbesola and his colleague, Rotimi Akeredolu (SAN), the Ondo State Governor following the attack on Mr. Bola Ilori, the Osun State Commissioner for Regional Integration last week, in Akure, Ondo State.
It would be recalled that Mr. Ilori, was attacked by some suspected political thugs in Akure on Thursday during an All Progressives Congress meeting on restructuring.
Aregbesola, while reacting to the attack in a statement issued by his media aide, Mr. Sola Fasure, described the attack as barbaric.
The governor's aide said the statement credited to the Ondo State Commissioner for Information, Mr. Yemi Olowolabi, was undiplomatic, saying he accused the Osun delegates for coming with hoodlums to disrupt the meeting.
Fasure said: "The statement credited to Hon. Yemi Olowolabi that 'what happened is sad but avoidable'. It is apparent the Osun delegates came prepared with thugs, charms, ammunition and cudgels to an event which was supposed to be an all-APC event' was highly undiplomatic and not expected from a commissioner of that status.
"This state of affairs was far from the truth as Olowolabi made people to believe. The Osun delegates simply went armed with their intellect to marshal the position of the state.
"Why would a delegate go with dangerous objects to a conference on restructuring when Ondo and Osun are not at war or in confrontation over any issue?
Read also: FG begins trial of 1,600 Boko Haram Suspects
"Ilori represented the government and people of Osun. Therefore, he deserved to be accorded the courtesy and respect due to the state. He deserved to be protected by the government of Ondo State as well as security agencies at the venue of the conference.
"All these safety measures were not put in place. Rather Hon. Ilori was exposed to attack by some top government official, who reportedly had axe to grind with Ilori over election matters in the state.
"The attack on Ilori is barbaric and reprehensible, to say the least. It is no doubt an attack on the entire people and Government of Osun State, whom Ilori represented at the meeting. We condemn in strong terms this affront on the people and Government of Osun State, which the attack on our delegate signposted."