Avengers and herdsmen are saints but IPOB and the rest of us are terrorists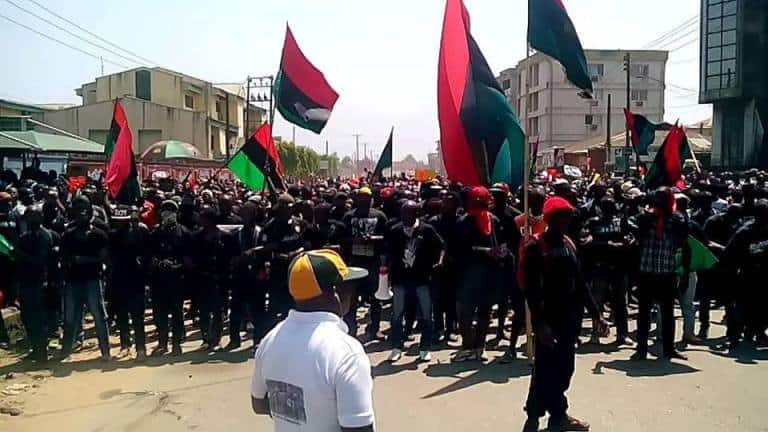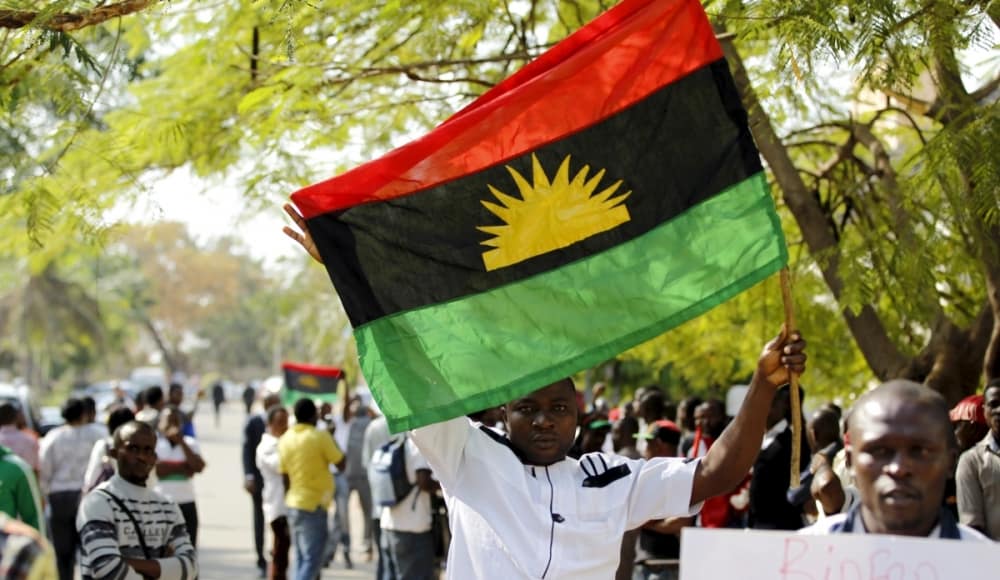 These are interesting times. We're entering an interesting, new journalism era when newspaper editors will cast simple headlines but the public will nevertheless be confused. "Troops kill 14 terrorists in Plateau," a headline could read. And readers would wonder: What kind of terrorists? Were they Biafra terrorists or Boko Haram terrorists? It could soon happen that we find our ourselves using the word 'terrorism' with the same ordinariness with which we do 'armed robbery'. For that, we have 'almighty' President Muhammadu Buhari to thank.
Buhari's crush-or-kill disposition to agitation was what the Defence Headquarters banked on when it hastily designated the Indigenous People of Biafra (IPOB) a terrorist group, before proceeding on a confusing and embarrassing volte-face, forcing Tukur Buratai, the Chief of Army Staff, to claim that the Army's "pronouncement" was misinterpreted.
"You have to get it very clear," Buratai said in that bizarre about-face. "First of all, what the Defence Headquarters did was to make pronouncement. It wasn't a declaration per se. But this has given room for the right step to be taken."
It also gave out the administration as one whose well-documented disregard for the law is not accidental. The initial uproar about the DHQ's declaration was that it was illegal but the illegality has now been corrected with the proscription of IPOB by an Abuja Federal High Court. Therefore, the contentiousness of that declaration is no longer about legality but now about propriety. Are IPOB members indeed terrorists?
THE 14 ACTS OF TERRORISM
Section 2 of the Terrorism (Prevention) Act 2011 as amended is very clear in its definitions of what constitutes terrorism: "act of terrorism" means an act which is deliberately done with malice, aforethought and which:
 (a) may seriously harm or damage a country or an international organization;
 (b) is intended or can reasonably be regarded as having been intended to—
 (i) unduly compel a government or international organization to perform or abstain from performing any act;
 (ii) seriously intimidate a population;
 (iii) seriously destabilize or destroy the fundamental political, constitutional, economic or social structures of a country or an international organization; or
 (iv) otherwise influence such government or international organization by intimidation or coercion; and
 (c) involves or causes, as the case may be—
 (i) an attack upon a person's life which may cause serious bodily harm or death;
 (ii) kidnapping of a person;
 (iii) destruction to a Government or public facility, a transport system, an infrastructure facility, including an information system, a fixed platform located on the continental shelf, a public place or private property, likely to endanger human life or result in major economic loss;
 (iv)the seizure of an aircraft, ship or other means of public or goods transport and diversion or the use of such means of transportation for any of the purposes in paragraph (b)(iv) of this subsection; *
 (v) the manufacture, possession, acquisition, transport, supply or use of weapons, explosives or of nuclear, biological or chemical weapons, as well as research into, and development of biological and chemical weapons without lawful authority;
(vi) the release of dangerous substance or causing of fire, explosions or floods, the effect of which is to endanger human life;
 (vii) interference with or disruption of the supply of water, power or any other fundamental natural resource, the effect of which is to endanger human life;
 (d) an act or omission in or outside Nigeria which constitutes an office within the scope of a counter terrorism protocols and conventions duly ratified by Nigeria.
 (3) An act which disrupts a service but is committed in pursuance of a protest. However, demonstration or stoppage of work is not a terrorist act within the meaning of this definition provided that the act Is not intended to result in any harm referred to in subsection (2) (b)(i), (ii) or (iv) of this section.
Of these 14 infractions that constitute terrorism, IPOB, as a group, violated only three: C(iii), C(iv) and 3. Importantly, all violations did not come until the army released pythons to the south-east. Of these 14, Nnamdi Kanu breached at least 10.
Had the court, on FG's prompting, declared Kanu a terrorist, it would have been hard to fault the move, judging by the scale of hate preached by the IPOB leader, his call for the boycott of next month's Anambra governorship election, and the way he continuously incited his followers to shed blood for the actualisation of Biafra. But any declaration of IPOB itself as a group of terrorists is an overkill, especially when this government has turned a blind eye to more dangerous groups.
THE REAL TERRORISTS
How on earth can IPOB members be terrorists when notorious killers, the herdsmen, have no such designation? We are talking about a group that was named in 2015 by the Global Terrorism Index as the fourth deadliest terror group in world. Only Boko Haram, ISIS, and al-Shabab were deemed deadlier than this nomadic group of militants. In 2013, they killed around 80 people in total, but by 2014 the group had killed 1,229 and 847 in 2015.
"The little-known group, formed of individuals from the semi-nomadic, pastoral ethnic group Fula people existing across several West African nations…  operates in Nigeria and parts of the Central African Republic," The Independent wrote at the time. "As much as 92 per cent of their attacks target private citizens, reflecting the group's primary concern over the ownership of farmland. Each attack claims an average of 11 lives, with the largest known in April 2014 killing as many as 200 people after a group of the militants targeted community leaders and residents during a meeting in central province Zamfara."
This group is, in fact, guiltier of terrorism than Nnamdi Kanu. But, sadly, all Buhari thinks of them is that they are a "criminal gang", as evinced by Garba Shehu, one of his spokesmen, who said last week: "There is a difference between a criminal activity and a terrorist activity. Yes, some Fulani herdsmen are a criminal gang and they are being dealt with according to the law. But IPOB, like Boko Haram, has a territory they have carved out to themselves."
If IPOB members are terrorists, what do we say of militants in the delta, particularly the Niger Delta Avengers, who actually did terrorise Nigeria by freely bombing oil installations, consequently plummeting oil production capacity, which in turn lowered the country's crude oil earnings. The Avengers made Buhari's opening months in office hell, costing Nigeria $7 billion (N2.1 trillion) between January and October 2016, according to the Nigerian National Petroleum Corporation (NNPC). Although they ticked at least 10 of the 14 offence boxes listed in the Terrorism act, the Avengers were not designated as terrorists. After realising the futility of military crackdown on the bombers, he resorted to peace talks between representatives of the government and the militants, followed by the payment of outstanding monthly stipends to militants. Since then, the Avengers have left vengeance to God!
From the Avengers, Buhari must have learnt that force will always be trumped by dialogue; the surprise is why he won't handle IPOB in a similar manner. By overseeing the proscription of IPOB and its declaration as a terrorist group, Buhari has managed to trivialise terrorism — a truly serious offence — to the realms of thuggery and armed robbery. Tomorrow, should the rest of us hit the streets in protest of an unfavourable policy, we could easily be marked down as terrorists. In case anyone is in doubt, the amended Terrorism Act prescribes up to death as punishment for terrorists. The makers of that law must be holding their heads in their hands, knowing this wasn't the original plan.
Soyombo, Editor of the International Centre for Investigative Reporting (ICIR), tweets @fisayosoyombo

Akinwumi Adesina, Buba Marwa, Osinbajo – My Pick For President
By Fredrick Nwabufo
Nigeria is not in short supply of true leaders. The country's diversity and generous human resources offer a limitless pool of talents, skills, abilities and character. Nigeria is blessed with all that a nation needs to be a lodestar in the galaxy of nations. But why do misfits end up in the cockpit here? The recruitment process has a bias for ethnic and religious emotionalism. The enlistment process is the snag — fundamentally.
The political recruitment process at the party level is fatally flawed. Candidates for election are selected not on the content of their character, antecedents, abilities, and verifiable records but on the basis of where they represent, where they worship and how much they have to bribe party officials and delegates – in the case of indirect selection.
Our recruitment process at the party level rarely throws up people with discipline and competence for election. In fact, people with some semblance of capacity are rather planted as running mates of very defective standard-bearers.
Our politics de-emphasizes ability, competence, qualifications, integrity, expansiveness, temperance, and compassion as primary values for leadership – but accents the geography and religious identity of power instead.
We have to make a bold departure from this path. Nigeria needs healing. 2023 should be for national healing; closing the chasm and forging new bonds. As I said in 'Nigeria needs a Nigerian president in 2023 – not Igbo, Hausa or Yoruba', the country needs a doctor to heal the country in 2023, and it needs a carpenter. It also needs a builder and an architect to build the country back better. It needs an all-in-one president. Yes, Nigeria needs healing from six years of hate-slinging, recriminations and animosity.
We have to get it right in 2023, lest we embark on another tortuous journey through the capricious wilderness.
So, I have made my own list of five Nigerians I think can steer Nigeria away from the tempest. These individuals are notable for their integrity, leadership excellence and brilliance. This list is by no means definitive, but it throws up possibilities of what could be and should be if we must make it out of the doldrums. Enough of the predatory politics and recycling of the same political class.
AKINWUMI ADESINA
Adesina is the president of the African Development of Bank (AfDB). He was first elected as the Bank's president in 2015 and re-elected in 2020. He is an astounding economist. He graduated with a bachelor's degree (first class) in agricultural economics from the University of Ife in 1981. He went on to earn a PhD in agricultural economics from Purdue University in the US. He has won many awards, and received global recognition and appointments. He also has sterling records on integrity and leadership. He came into the reckoning of most Nigerians when he was appointed as the minister of agriculture in 2011 by former President Goodluck Jonathan. He was named Forbes 'African Man of the Year' for his reforms in the agricultural sector. He is widely regarded as one of the best agriculture ministers Nigeria has ever had. No other agriculture minister after him comes close on the performance-meter. I have checked frantically for any dirt on Adesina, but found none. He has no corruption case in Nigeria or anywhere.
Adesina is not a politician. The odds may be against him because he is not in the mould of the wheeler-dealer politician. But it is comforting that his excellence has not gone unnoticed. Former President Olusegun Obasanjo is reported to be ''drumming support'' for Adesina to enter the 2023 presidential race. Adesina is 61 years old, and by 2023 he will be 63 — still within a good age bracket.
AMINA MOHAMMED
Mohammed is the deputy secretary-general of the United Nations. She was appointed minister of environment by President Muhammadu Buhari in 2015 – but she left the position to take up the UN job. Mohammed is one of Nigeria's lodestars. If Nigerians are desirous of a break from the quotidian, then Mohammed will be that elixir that will spring life into the nation. She's notable in international circles and has received global acclaim for her work on the environment, education, gender inclusion and the SDGs. She has no corruption case and her leadership style is said to be 21st century compliant. She is 60 years old and will be 62 in 2023. Although coming from a conservative and patriarchal society, the odds are stacked against her; she has the refinement and character to lead Nigeria in this age. Can we give women a chance in 2023?
NGOZI OKONJO-IWEALA
Okonjo-Iweala is perhaps the most decorated economist out of Nigeria. Her accomplishments are unmatched by any Nigerian finance minister before and after her. She is the first woman and first African to lead the World Trade Organisation (WTO) as director-general. She became the DG of the WTO after a very competitive process. Leadership at the global level is chaotic with a barrage of interests at war. I believe Okonjo-Iweala can manage Nigeria with all its complexities going by her antecedents. She was once the coordinating minister of the economy, and it is obvious with the current parlous state of the economy her time was a golden era. Nigeria needs a good manager of the economy. Okonjo-Iweala is 67 years old and will be 69 in 2023. Although in Nigeria's very murky politics, the likes of Okonjo-Iweala do not thrive, we can always chart a different path. After all is 2023 not about breaking the cycle and breaking away from the old order?
MOHAMMED BUBA MARWA
Buba Marwa, chairman of the NDLEA and retired army general, is an accomplished administrator. He has a master's degree in public policy from Harvard. As governor of old Borno state, he introduced the first joint-military patrol in the country, codenamed 'Operation Zaki' to tackle banditry and other forms of criminality in the north. Other states soon followed his novel example. As governor of Lagos, he tackled insecurity with 'Operation Sweep', set up a bitumen factory in the state; rehabilitated area boys by setting up skill centres and giving them grants to start bakeries, furniture work, tailoring and other businesses. He was also able to manage the ethnic divergences in Lagos very well. His stewardship in Lagos remains stuff of legends and tales pass down from generation to generation. Marwa is a politician and member of the All Progressives Congress (APC). Even though from the north, I believe Marwa can manage Nigeria's diversity and effectively tackle insecurity.
YEMI OSINBAJO
Osinbajo is a fine gentlemen; a refined politician. He is cerebral, competent, temperate, and disciplined. He is an example of what the avant-garde Nigerian politician should be. But an albatross hangs on Osinbajo's neck. He shares in the failures of the current administration and has taken a good lashing in the public for them. He is named in areas where the administration is faltering, but not where it is succeeding. Being the brains at the presidency, Nigerians expected much of him. Osinbajo will have to work at dismantling the web around his persona. But I believe he will be a president, with gravitas and character, for Nigeria.
Nwabufo, a journalist and writer, can be reached: Twitter/Facebook/Instagram: @FredrickNwabufo
Weighty Matters About Our Country By Femi Adesina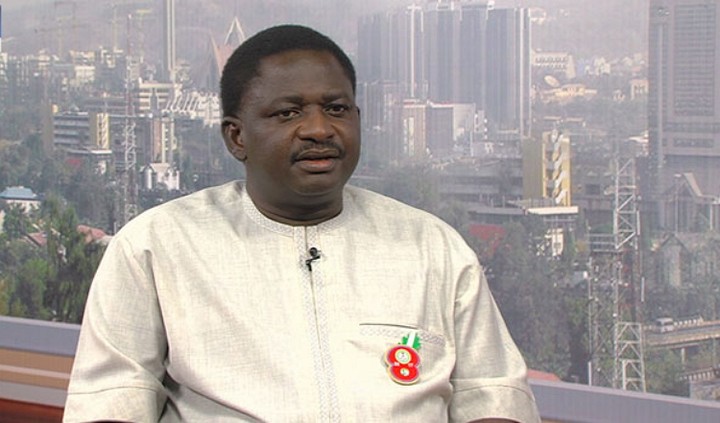 Series of reactions have typically attended the October 1 broadcast by President Muhammadu Buhari to mark the 61st anniversary of our Independence Day. These include the good, the bad, and the downright ugly. That's democracy in action, with its propensity and predilections for freedom of speech.
My motive in this piece is to consider parts of the broadcast that look into our very essence, our raison-d-etre as a country, and how the ties that bind can be further strengthened. Okay, let's go.
"Fellow Nigerians, the past 18 months have been some of the most difficult periods in the history of Nigeria. Since the civil war, I doubt whether we have seen a period of more heightened challenges than what we have witnessed in this period."
Factual. Straight as an arrow. Deadpan. Our President is not one to mince words, speak facetiously or tongue-in-cheek. He says it as it is.
We have, indeed, passed through the most challenging of times in the past 18 months: security-wise, economically, socio-politically, and in many other ways. Life has descended into the Hobbesian state of nature; nasty, brutish and short. But God will have mercy on whom He will have mercy. We are still here, standing, hoping, trusting. Better days will come, and are, indeed, coming. Challenges are meant to be surmounted. Accepting that they are real is the first practical step to combating them.
The Buhari administration is not glossing over our issues, but is rather facing them squarely. And that is why #We Believe. Some governments lie to their people. No, not the Buhari government.
"In the last four months, the gallant men and women of the military and security agencies have made tremendous progress in addressing these new security challenges. We are taking the fight to our enemies from all angles, and we are winning."
God bless our troops! From the air, the land, the waters, they are defending us, routing out the evil and wicked. They pay heavy prices, even the ultimate sacrifice, but they keep at it. Nigeria must be free, and must be at peace. By force! We appreciate. We are winning all the wars, we are not looking back. With the banners before us, we are sure of victory. I say it again: God bless our troops! Amen.
Believe this President when he tells you that "in line with section 14(2)(b) of the 1999 Constitution (as amended), the security and welfare of Nigerians continue to be the prime focus on which programmers and projects of our government revolve." When Muhammadu Buhari tells you something, you can take it to the bank. Believe!
Some people incite violence through words or actions, thus exacerbating the security challenges we have. You wonder where they are from, and why they would further stoke a burning fire with incendiary materials.
There is one funny Senator who talks about the mismanagement of our diversity as a country, yet he daily uses foul language against those in leadership. He stood surety for someone bent on dismemberment of the country, and when that one vanished, and he should have been cooling his feet in prison, the Senator still spews rubbish. Chief 'mismanager' of our diversity. And the President had words for him and his ilk, who exist round the country.
"We are ready to arrest and prosecute all persons inciting violence through words or action. Our resolve for a peaceful, united and one Nigeria remains resolute and unwavering…
"The seeds of violence are planted in people's heads through words. Reckless utterances of a few have led to losses of many innocent lives and destruction of properties."
How very true! The reckless utterances come even from the pulpit; from apostles, pastors and bishops. From the mosques; from sheikhs and mallams, from the newspapers, radio, television, Internet, everywhere. From the very old, the young, male, female. They just say incautious, thoughtless, imprudent things that swell up, and lead to violence, sorrow, tears and blood.
Yes, a government must work for harmony, amity and concord in the land. But when these characters would not relent in being 'opposite people', what should be done? The President addresses it in the broadcast. "Our hope is not to fight for peace. We can always settle our grievances without spilling any blood…We shall continue to work on dialogue based solutions to address legitimate grievances. But we remain ready to take decisive actions against secessionist agitators and their sponsors who threaten our national unity."
True. Government must have biceps. It must be strong, and show strength. Otherwise, it will be taken for a ride, and soon, will become a king sitting on an empty throne. We must embrace peace and dialogue, whatever our grievances. All of us do have these things that rile, vex and outrage us. You have, I have. Is the next thing then to upset the applecart? No, blessed be the ties that bind us, and those ties should remain resolute, unwavering. "Nigeria is for all of us…and its ultimate success can only be achieved if we all come together with a common goal of having peace and prosperity for our nation."
Other weighty matters that the President touched on include the fact that Nigeria does not start and end with the Federal Government. "This country is a great collective where Government at all arms and levels as well as the private sector, and more importantly individuals, have a role to play."
He stressed that security is a bottom to top undertaking, in which we must all join hands together. That is why it is amusing to see people deliberately light fire at their communities, wards, local councils, states, and then call on Buhari to come and put out the fire. It doesn't work that way. Security is a bottom to top undertaking. And unity is a collective resolve.
Two more points, and I'm done. Nigeria must go beyond a never-ending potential for becoming a great nation to an actually great one. Many presidents have said it. Shehu Shagari. Olusegun Obasanjo. Umaru Yar'Adua. Goodluck Jonathan. But here we are today, still just a country with potentials. But I tell you, under Muhammadu Buhari, those inherent capacities and capabilities are being unearthed, utilized, and we are on our way there. It's just to stay focused, and we'll get to our Canaan, flowing with milk and honey.
Finally, my brethren. President Buhari said a lot has been achieved in the past six years on many fronts: in infrastructure, social care, governance, Nigeria's image and influence in Africa and the international community. He added: "But critics misdiagnose incremental progress as stagnation. Since coming to power, this Administration has tackled our problems head-on in spite of the meager resources. No government since 1999 has done what we have done in six years to put Nigeria back on track."
Bull's eye! And I challenge those who kept us in the slave market for 16 years, and threatened to keep us cabined, cribbed and consigned for 60 years, to controvert it. I join Minister Raji Fashola, SAN, to challenge them to show us one major road project they started and completed in 16 years. One major bridge, rail project, airport they built, despite the humongous resources at their disposal. Let them speak up now, or forever hold their peace.
*Adesina is Special Adviser to President Buhari on Media and Publicity
Wale Odunsi: Facebook, Instagram, WhatsApp Outage Affirms Mark Zuckerberg As Tech King
At about 16:00 GMT on Monday, October 4, smartphone users around the world noticed a lull in Facebook, Instagram and WhatsApp updates, the second time in 2021. In Nigeria, many initially thought it was the periodic outage of network services. There is high data usage in the country of 200 million people but telcos and internet providers are generally criticized for slow data connection.
Amid the confusion, phone owners restarted their device(s) in a bid to "find network". Within an hour or two, information spread that Airtel, Etisalat, Glo and MTN were not guilty as charged in this instance. Facebook, Instagram and WhatsApp were down! Family, friends, colleagues and neighbours were left with no option but to fall back on "normal call". The phrase was coined and made popular after the launch and subsequent dominance of WhatsApp voice and video calls.
I jokingly told a pal that telecommunications companies in Nigeria would be happy "now that people must buy call credit"; I'm sure they made hundreds of millions that day. I further observed that despite confirmation of the social media platforms dormancy, users were jittery about the chats, documents, images and information in their accounts. "An ongoing hack", some fumed.
Eventually, the downtime, which affected around 3.5 billion people, was fixed at about 22:00 GMT. Mark Zuckerberg has apologized for the internal technical issue. "Sorry for the disruption today. I know how much you rely on our services to stay connected with the people you care about", he said in a post.
News about his loss of $6billion in Facebook shares-dive went viral. A Facebook user in Nigeria, King Prestige, contested the figure. "It's a lie. If this man makes such, per some number of hours, what stops him from being the richest man? The richest is worth 200bn dollars if am not mistaken." The comment generated more than 50 interesting replies in 5 hours.
The debate of whether Mark Zuckerberg lost $6billion in 6 hours or did not will continue. One thing we can at least agree on is that the American tycoon, internet entrepreneur and philanthropist is the Tech King of his generation. The fact that he founded, cofounded, purchased or invested in the three apps that shut out close to half of the world's population – including his "rivals" – would make him an unopposed member of the "Planet Earth Board" if there was one.
Facebook currently has a market cap of over $1trillion and 2.8 billion active users monthly. Instagram, worth an estimated $100billion, has 1.3 billion active users monthly. Facebook acquired IG for $1billion in 2012. WhatsApp, the most popular messenger app in the world with 1.6 billion active users monthly, was worth $5billion in 2020. In 2014, Facebook bought the startup from Jan Koum and Brian Acton – two former Yahoo! executives – in a $19 billion deal.
The ingenuity, rise and influence of Mark Zuckerberg and the likes should serve as a reference for countries, especially in Africa. They must heavily invest in education to boost the capacity and knowledge of hundreds of tech gurus yet to be discovered. The laxity of governments on the continent is the major factor causing brain drain.
In November 2017, President Muhammadu Buhari presented the N8.6trillion 2018 'Budget of Consolidation' 2020 to the National Assembly; Education got N605.8billion (7 per cent). As expected, Nigerians complained it was below the United Nations Educational, Scientific and Cultural Organization (UNESCO) "recommendation".
Defending the allocation, Education Minister, Adamu Adamu told reporters that UNESCO never fixed a benchmark. "I led the Nigerian delegation to UNESCO and the issue came up. UNESCO said they never, at any fora and under any circumstances, suggested 26 per cent as the optimal level of funding for education for any nation."
However, a UNESCO report, titled 'Education for All 2000-2015: achievements and challenges', notes: "Direct aid to education plus 20% of general budget support (aid provided to governments without being earmarked for specific projects or sectors) to represent the estimated 15% to 25% of budget support that typically benefits the education sector."
Also, the United Nations Children's Fund (UNICEF) Eastern and Southern Africa Regional Office Social Policy and Education Working Paper December 2020 provides that for the Sustainable Development Goal (SDG) 4 to be achieved, all countries have the responsibility to sustain a certain level and quality of public investment in education.
"While external support is critical in the short term, domestic revenue mobilization is the most sustainable way of investing in education. If anything, COVID-19 should strengthen the resolve of ESA governments to keep education on top of their spending priorities by meeting or exceeding the 20% minimum education spending as a percentage of total government expenditures or 4-6% of their GDP", it reads.
The Nigerian government must increase budgetary allocation to education if it is truly interested in global competition. Those in positions of authority should stop gaslighting the young citizens with the "youths are the leaders of tomorrow" line. It will only make sense if adequate resources are earmarked to help them grow intellectually.
I urge the federal government, 36 states and the Federal Capital Territory (FCT) to start/renew the establishment of Special Schools. These institutions, which can be tuition-free or highly subsidized, will take in kids exceptional in different fields such as architecture, building, engineering, environment, health, information technology, natural and physical sciences.
I maintain that the insistence of being the 'Giant of Africa' will remain lip service without conscious effort to aggressively upgrade all facets of the economy. It's like football: games are not won based on club status, players' names or statistics, they are won by tactics, cohesiveness and determination.
Nigeria has many more hidden Iyinoluwa Aboyeji (Flutterwave), Ezra Olubi and Shola Akinlade (Paystack) and other young techpreneurs, their potentials must be harnessed. Millions of youths were delighted when Stripe's acquisition of Paysatck for $200million made headlines in mid-October 2020. Interestingly, it was during the End SARS protest against police brutality.
The story of how Mark Zuckerberg attended the prestigious Harvard University and later dropped out of the Ivy League school to focus on his dream is not new. He remained loyal to his dream and is a success story. Married to Priscilla Chan, the 37-year-old is now worth $123billion. Take a bow, Mark.
Wale Odunsi tweets from @WaleOdunsi; email: [email protected]