Biafra: Nnamdi Kanu under house arrest – Lawyer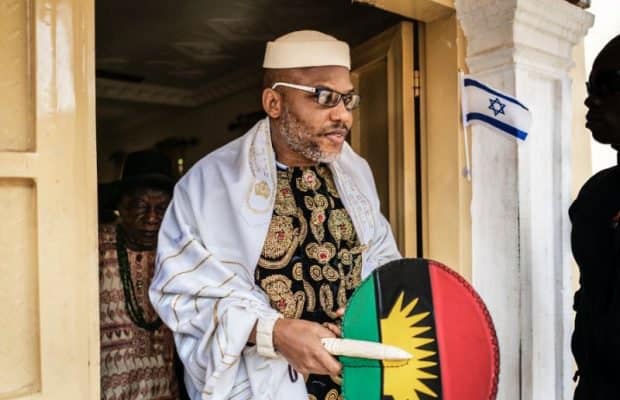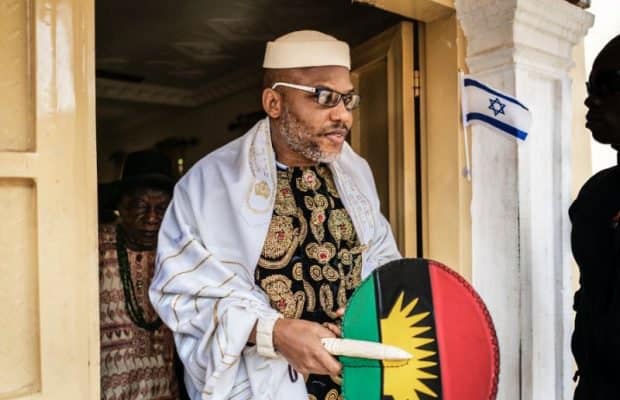 Nnamdi Kanu's lawyer, Ifeanyi Ejiofor has cried out to the public over concerns about the IPOB leader's safety, claiming his client has been placed under house arrest by the Nigerian army.
Kanu's counsel, made the revelation in a statement issued shortly after soldiers allegedly invaded the IPOB leader's country home in Umuahia.  Ejiofor said he got a distress call from Kanu but that he couldn't confirm whether he is alive or dead.
"Just to notify the world that my client's (Nnamdi Kanu) house is presently under siege by the trigger-happy soldiers acting under the direct instruction of chief of army staff," the statement read.
"He has been placed under house arrest at the moment while shooting sporadically into the air. Casualties are being counted as the unprovoked assault progresses. Some IPOB members have just been killed at least four people.
READ ALSO: Nnamdi Kanu Reveals How IPOB Members Stopped Soldiers From Entering His House
"They drove in in their thousands to arrest and maim him. I just got a distress call from him now. Further efforts to establish contact with him have remained unsuccessful.
"As it stands now, I can't confirm whether he is dead or alive."
Ejiofor further said the federal government is attempting to "eliminate" Kanu through 'Operation Python Dance,' the military exercise recently launched in the south-east.
"It (the exercise) is yielding the desired result to the presidency, having launched a manhunt for my client and unarmed members if Indigenous People of Biafra," he added.
"Let the world know that the federal government has practically abandoned their case in court in search of a brute route to eliminate my client.
"As I type this statement, his residence has been cordoned off by the military, majority of whom are of Fulani extraction.
"The world should hold Buhari-led federal government responsible if anything untoward happens to Nnamdi Kanu. The situation is very tense at the moment."