Nollywood Actress Omawunmi Opens Up On Romantic Affair With MC Oluomo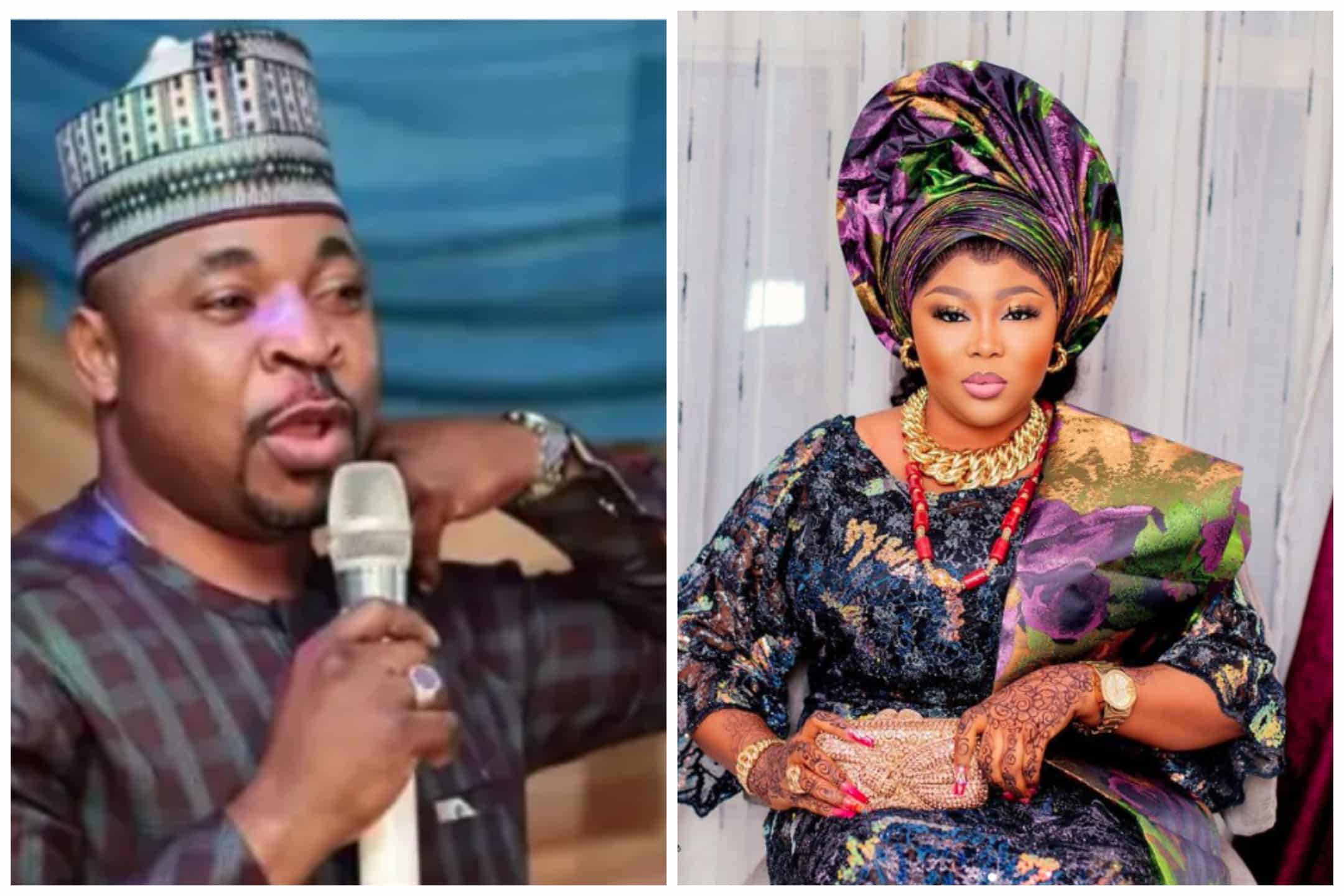 Popular Yoruba Nollywood actress, Omawunmi Ajiboye, has debunked claims of a romantic affair with All Progressives Congress (APC) chieftain, Musiliu Akinsanyan, popularly known as MC Oluomo.
Naija News reports that this comes after the movie star laid her mother to rest in Osogbo, Osun state, in grand style and penned a lengthy epistle to appreciate MC Oluomo via her Instagram page while she wrote a sentence to thank her husband, Segun Ogungbe.
Recall that there have been speculations that Omawunmi is romantically linked to MC Oluomo, who allegedly furnished a new apartment for her, which led to her marriage crash, and Segun has returned to his first wife.
In a statement via Instagram on Sunday, the thespian described herself as a virtuous woman, and she would not allow her hard work, tenacity, and personality to be credited to another person.
She admitted that MC Olumo is a philanthropist; however, she has no romantic relationship with him, and it is disheartening for people to always credit her hard work to him.
She wrote: "I need to clear air, I am a virtuous and hardworking woman and i wouldn't allow my hard work, my tenacity,my name, my sweat and my truth to be robbed. I had sealed with the King of Fuji Music independently years before the burial party and as a norm after the birth of a group called CGI(Connecting Grassroots Initiatives) I had to officially invite the Pioneer of the group in person of MC Oluomo..
"I can categorically say that i have never had a romantical relationship with him prior or during the party i just had . It took me 7 years to give my mother a final befitting burial and which i am proud to do solely …The philanthropist gave me money to support in the presence of the committee a day to the party.(group members can testify). Everything i have done single handedly is always tagged to him and somehow robs me of my hardwork and my sweat .i kept quiet for long as people know him to be a philantropist but i am boldly saying that i do not have any romantical relationship with him and this does not cancel the fact that he has been a good person to me. This is not to say that i did not receive gifts and supports from friends and colleagues like everyone would ..
"As for the adorable father of my children who has refused to say a word on our relationship status and i decided to respect his opinion but when i see the undeserved empathy he gets in a mutual agreement,i feel tempted to talk but still for the sake of the beautiful kids ,i would keep mute until he finds an appropriate time to do otherwise.
"I do not have control over people's joy as everyone came to the party joyfully and we ended it on a good note . Once again,i appreciate everyone who showed me concern ,called me and told me not to say a word. I am sorry i dissapointed you all but i refuse to be robbed by false news and rumours.
"To rumour mongers and their fans,its always sweet and fun until it gets to your turn,i sincerely hope you maintain same energy by then.. I am omowunmi ajiboye I will never be bullied to silence I will never be pressured into accepting what i know nothing about. If i lie,let God judge me. If this is really my truth,God bless me more and all that i do, amen"
---
---
© 2023 Naija News, a division of Polance Media Inc.