Aviation Company Speaks On Tampering With Adeleke's Aircraft Engine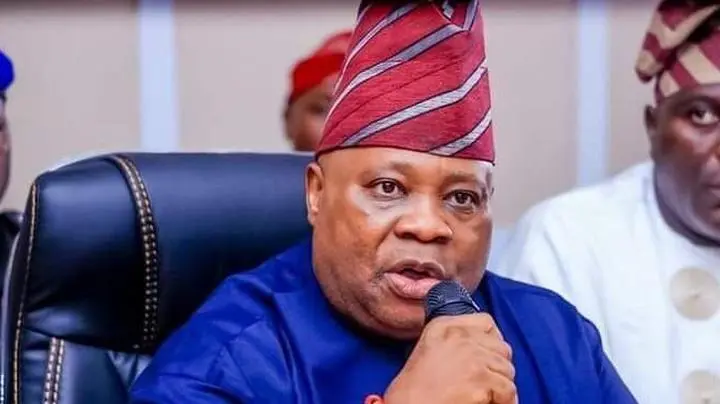 The Management of Quits Aviation has denied claims of tampering with the engine of the Bombardier Challenger 605 aircraft, belonging to Nigerian billionaire, Deji Adeleke, the elder brother of Osun State Governor, Ademola Adeleke.
Naija News had earlier reported that Adeleke and some of his aides narrowly escaped an aircraft crash, confirmed on Sunday by the Governor's spokesman, Olawale Rasheed.
Rasheed alleged that the engine of an aircraft carrying the Governor might have been tampered with.
However, in a statement on Tuesday, the Quits Aviation management insists that no one could tamper with the aircraft's engine because it was under 24-hour security surveillance, whose CCTV footage has shown no record of tampering.
The management states that the company is a reputable and credible aviation entity with outstanding Aircraft Management, Maintenance, Operations and Handling service track records.
Quits Aviation management stressed that besides towing the aircraft from its parking space to another location before Adeleke's flight on September 4, 2023, the CCTV footage revealed no record of tampering or security infringement.
The management further expressed regrets over the incident and confirmed its full cooperation with relevant stakeholders and authorities investigating the incident.
The statement reads: "Under an aircraft parking agreement with the owner/operator of aircraft (Bombardier Challenger 605, registration marks 5N-ATA), Quits Aviation is responsible for providing suitable and secured parking space at its premises, whilst the owner/operator is responsible for the technical parking procedures in accordance with the respective Aircraft Maintenance Manuals.
"The aircraft was parked at Quits Aviation premises before the date of the incident on 04.09.2023. During parking, the aircraft was under 24-hour security surveillance, and there was no record of observed tampering or security infringements.
"According to CCTV footage observed, the following can be confirmed: On the day of the flight (04.09.2023) at approximately 08:45, the aircraft was towed from its parked position and repositioned close to the Legend Business Hangar to begin with flight preparation procedures.
"It is confirmed that the aircraft had been parked with no engine cover protection. Except for the towing movement, there was no other interference to its airframe or engines.
"At approximately 13:18 of the same day, the aircraft doors were opened for flight preparation activities until the aircraft departed for its intended flight at approximately 15:20.
"The aircraft later returned to the ramp, eventually to then leave the Quits Aviation premises at approximately 17:12.
"In promotion of safety, Quits Aviation recommends to its tenants to park aircraft in strict compliance with the Aircraft Maintenance Manual Procedures, requiring that open orifices and engines are always covered to prevent Foreign Object Damage or infestation."