Presidential Election Tribunal: Presiding Judge Makes First Comment As Hearing Begins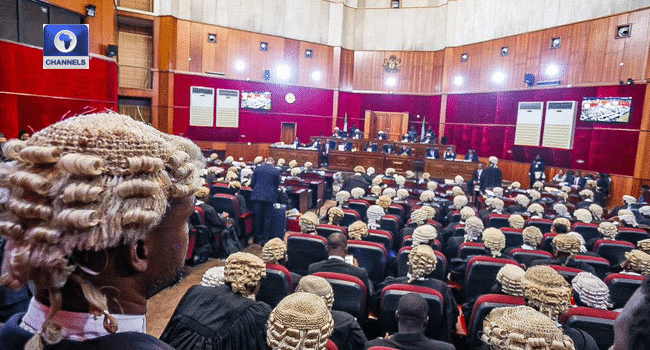 The presiding judge for the Presidential Election Petition Tribunal, Justice Haruna Tsammani, on Monday, charged the parties and their lawyers that "We must look at the peace and safety of this country; that should be paramount on the minds of every one of us here."
Naija News understands the judge stated this in his speech in court as the pre-hearing of the case against the victory of the All Progressives Congress (APC) presidential candidate, Bola Tinubu, is contested by opposition parties.
Speaking further, the presiding justice explained that the panel members would alternate their appearances in dealing with the pre-hearing issues before the tribunal with the petitions of the first hearings to accommodate the petitions of the Action Alliance (AA), Allied Peoples Party (APP) and the Labour Party (LP).
Recall that the likes of the Peoples Democratic Party (PDP), Atiku Abubakar, Labour Party (LP), Peter Obi, and APM are challenging the declaration of Tinubu by the Independent National Electoral Commission (INEC) as the winner of the February 25th presidential election.
Obi, Atiku, however, expressed their grievance following the declaration of the electoral body, prompting them to file a petition before the tribunal.
Meanwhile, APM, in its petition, joined INEC, APC, Tinubu, Kashim Shettima and Kabir Masari, who stood as a vice-presidential placeholder during the primaries before he was substituted with Mr Shettima.
APM is challenging the outcome of the presidential election on the grounds of alleged substantial non-compliance with the electoral laws as well as the INEC guidelines.
Atiku and the PDP, on their part, in a 66-page petition, request the tribunal to declare him the election winner or order a new one.
The former vice president is contesting the results based on various allegations, including irregularities in the voting process and discrepancies in the vote tally, Naija News understands.