Arthur Eze Visits Orji Kalu Over Wife's Death [Photos]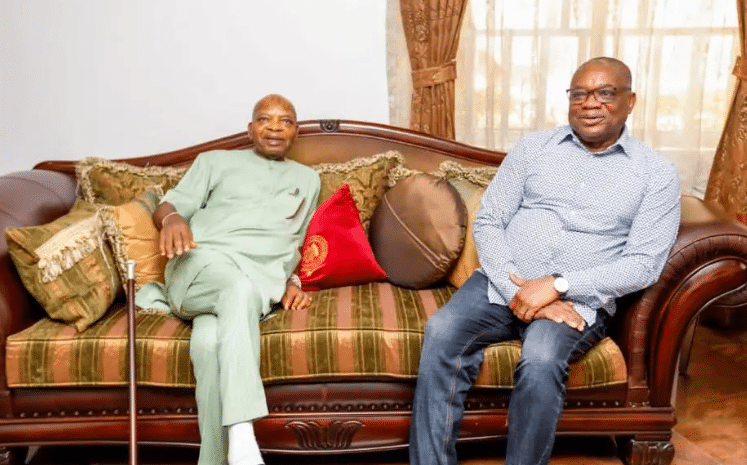 Prominent Nigerian Billionaire, Prince Arthur Eze, on Saturday, paid a condolence visit to Senator Orji Uzor Kalu at his Aso Villa home in Abuja over the loss of his wife, Ifeoma Ada Kalu.
Naija News reports that Eze was accompanied by other personalities to condole with Kalu over his wife's death and also felicitate with him on his 63rd birthday which was celebrated on Friday.
It was learned that the former governor of Abia State, and the billionaire businessman are in-laws to each other as the deceased was the daughter of Arthur Eze's elder sister.
Shortly after exchanging pleasantries, the duo held a private meeting, which lasted for about half an hour.
Speaking to a gathering of friends and a few guests, the billionaire philanthropist described the loss as shocking, enormous, and irreparable, adding however that no one can question the Almighty God.
Eze urged Kalu's family to take solace in God, saying that the late Ifeoma, who passed on in the United States will be fondly remembered for her uprightness, virtuous, kind, and courageous nature, and strong belief in Jesus Christ.
He said: "My niece will always be remembered for her good deeds, she was not just a good mother and wife to her husband and family but to all who came across her. We are saddened by her death but we give all thanks to God because she left us with lovely memories. I'm here to condole with my brother and his family to be strong and take faith in God."
Responding on behalf of the family, Kalu thanked Eze for empathizing with his family in their moment of grief and for the role he played in ensuring that their wife and mother lived.
The former Abia governor stressed that his family has accepted the sad incident as the will of God.