Champions League Final: Real Madrid Faults UEFA Refund Plan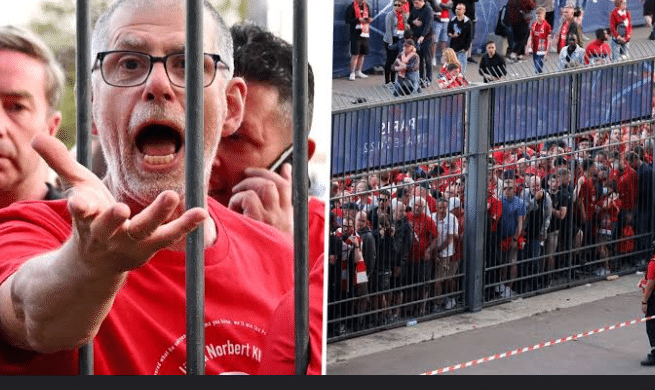 Real Madrid want all fans who attended the UEFA Champions League final in Paris in May 2022 to be compensated by the European football governing body.
Real Madrid stressed that Uefa's decision to just reimburse chosen people who attended the Champions League final is "insufficient".
Naija News had reported that an independent investigation concluded that Uefa is "primarily at fault" for the unruly conditions that "almost led in calamity" outside the Stade de France in Paris ahead of the Champions League final on May 28.
As a way to make up for the lapses, UEFA announced on Tuesday that attendees who purchased tickets for certain areas of the Stade de France would receive refunds.
In reaction to the announcement, Real Madrid made it clear that they would not take part in the "limited" repayment plan that Uefa is putting up.
Real Madrid stated that it had spoken with Uefa about the refund plan and "trusted at all times" that the reimbursement for all fans would be in line with the findings of the independent investigation.
"The fact is that all the fans experienced an unacceptable delay at the start of the match", the Spanish club added.
"In addition, there was unacceptable insecurity both in accessing and leaving the stadium, as well as additional harm such as theft, assaults, and threats."
The club continued, "Whether being able to access the stadium or not or having done so at the scheduled time, which in any case was due to the exceptional behavior of the fans of the two clubs, the reality is that all the fans suffered.
"For this reason, Real Madrid has decided not to cooperate with the limited compensation scheme promoted by Uefa, which we ask to rectify and assume full responsibility."
Set of fans UEFA intends to compensate:
Uefa plans to give refunds to those fans who had tickets for gates A, B, C, X, Y, and Z at the Stade de France – the stadium in Paris that hosted the 2022 UEFA Champions League final.
Those who did not enter the stadium before the match was supposed to kick off (21:00 local time), according to the stadium's access control data will also get refunds.
Also, those who were not able to enter the stadium at all and who purchased accessibility tickets are entitled to refunds.