2023: The Three Major Contenders Battling For Abia State's Soul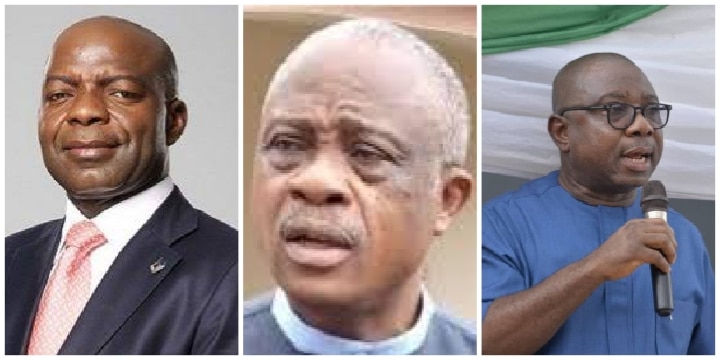 The 2023 Abia State gubernatorial election will take place on 11 March 2023 to elect a new leader that will govern the affairs of the state for the next four years.
Incumbent PDP Governor Okezie Ikpeazu is term-limited hence cannot seek re-election for a third term.
The major contenders in the election are Labour Party (LP), Alex Otti, Peoples Democratic Party (PDP), Okey Ahiwe and All Progressives Congress (APC), Ikechi Emenike.
Below is a little background into the candidates that will be battling for 1,949,197 Abia votes.
Alex Otti: Otti is the former Group Managing Director of Diamond Bank Plc. He is also a member of the editorial board of Thisday, and writes a fortnightly column, every other Monday, titled "Outside The Box".
In 2015, the economist contested the Abia gubernatorial seat under the All Progressives Grand Alliance (APGA) but lost the election. He subsequently challenged the victory of his opponent, Okezie Ikpeazu of the Peoples Democratic Party in court and was declared the winner of the April 11 and April 25 Governorship elections in the state.
However, the Supreme Court of Nigeria reversed the verdict of the Court of Appeal and affirmed the election of Ikpeazu as Governor
Okey Ahiwe is the owner of Ambrokah investments ltd and Powertrim Nigeria Limited, which is in the Maritime sub-sector of the Oil & gas industry supporting major multinational oil firms.
The oli mogul became the PDP gubernatorial candidate following the death of Professor Uche Ikonne, the initial PDP standard bearer
Ahiwe was a former Chief of Staff to Governor Okezie Ikpeazu of Abia State.
He has also been part of the National sub-committees of PDP for the conduct of party primaries in cross river & Oyo states.
In April 2022, he was appointed as the Chief of Staff to the governor of Abia State and was also a former member of the Abia state security trust fund.
Ikechi Emenike: His wife, Uzoma Emenike is the Nigerian Ambassador to the United States.
The Governorship candidate recently won a court case challenging his candidacy as the Abia State governor.
A former minister of state for Mines and Steel Development, Uche Ogah had challenged a judgment of the Court of Appeal in Abuja which upturned his candidature for the governorship poll.
The Court of Appeal had in an unanimous judgement delivered by Peter Ige, nullified Ogah's candidacy, setting the stage for the tussle at the Supreme Court.
The Court of Appeal held that the 26 May 2022 primary election which produced Emenike as the APC's governorship candidate in Abia State was valid.
The court held that Ogah lacked the 'locus standi' (legal right) to challenge the outcome of the APC primary election since he did not participate in the exercise. It said Ogah had instead claimed that he took part in a separate primary election not sanctioned by the APC.