Labour Party Chairman, Julius Abure Drags Arise TV To Court, Demands N100M Compensation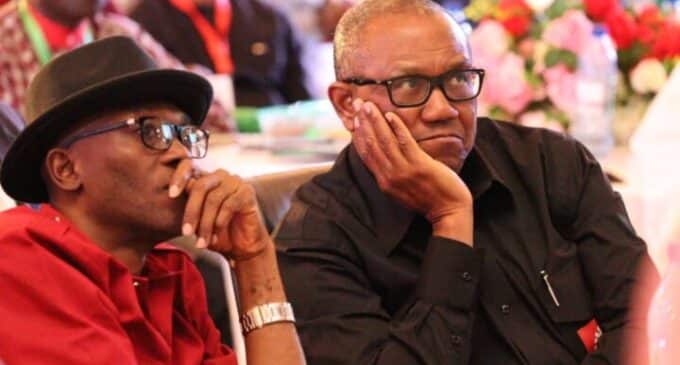 Fresh information has emerged that the National Chairman of the Labour Party (LP), Barr. Julius Abure has dragged broadcast medium, Arise TV to court over an incidence of alleged defamation.
Naija News reports that Abure, who is demanding N 100 million compensation from the broadcast medium claimed he was defamed when the TV outfit granted an interview to the party's former spokesperson, Abayomi Arabambi who made unfounded allegations that smeared his integrity.
According to him, the lawsuit slammed Arise TV for libel and demanded compensation of N100 million as damages for defamation of his character, reputation and person.
It was learnt that Abure in Suit No: B/35/2023, filed by his counsel, President Aigbokhan, Esq on 18th January 2023 prayed the Edo State High Court to perpetual put an injunction restraining Arise TV and its agents from further defamation of his character, reputation and person.
In a statement issued by the party, which was sighted by Nigerian Tribune, Abure claimed that Arise TV on its morning show granted an interview to Arabambi which was posted on a social media platform, Youtube dated the 11th day of December 2022, wherein he made several defamatory statements against him (Abure).
The statement further outlined some of the defamatory words, according to Abure as "That Barr Julius Abure the National Chairman of the Labor Party (LP) FORGED a court of Appeal Judgment of the 18th day of November 2022 and enlisted to INEC twenty-seven (27) candidates instead of the legally approved fifteen (15) candidates for the Lagos State House of Assembly.
"That Barr Julius Abure submitted a FORGED list of Twenty Seven (27) names to INEC dated 25th November 2022 signed by Barr Julius Abure as National Chairman and Alhaji Umar Farouk Ibrahim as National Secretary and also presented the copies as evidence to ARISE TV, the morning show'
"That Barr Julius Abure the National Chairman of Labour Party diverted over Forty Million Naira (40,000, 000, 00) from sales of party nomination form into his private transport company account with Access Bank Plc as payment thereby grossly violated the provisions of the Labour Party Constitution 2019 as amended by enriching himself fraudulently and thereafter denied the candidates tickets after collecting their monies.
"That a financial audit investigation of all the Labour party's accounts be conducted immediately to ascertain the extent of financial malfeasance and impropriety perpetrated through illegal transactions from sales of party nomination forms and expression of interest.
"That Barr Julius Abure, brought in four (4) thugs with improvised Arms or pistols that are not members of DSS or any of the licensed security operatives to harass him during the NWC meeting that took place at Barcelona Hotel Wuse 2 Abuja caught on CCTV Camera.
"That Labour Party has been completely southenized without any pan Nigeria outlook in composition.
"That Mr Peter Obi has never had any meaningful and fruitful meetings with the National Executive Council NEC of the party because of Barr Julius Abure and Clement Ojukwu, the National Organizing Secretary who have monopolized Peter Obi with lies.
"That the presidential campaign committee PCC has excluded members of the National Working Committee, NWC from the South West in the presidential campaign and noting that none of the six (6)national working committee NWC members from southwest was part of the campaign rallies in Ibadan and Ogun States amongst others."
The Labour Party national chairman explained that the word referred to above in the statement was understood by him to mean he was fraudulent in his activities and in the habit of collecting bribes from party members in other to access political position.
Abure also claimed that the words used by the defendant, in the interview with the Arise TV News Morning Show, have maligned his position as the national chairman of the Labour Party and have reduced his level of standing in society.
He added that the principles of fairness, accuracy, and balance in the coverage of Political campaign activities were not observed in granting the said interview as the Television station made no effort to get his side of the matter.