Gov Badaru Reacts As Jigawa Ex-Deputy Governor Dumps APC For PDP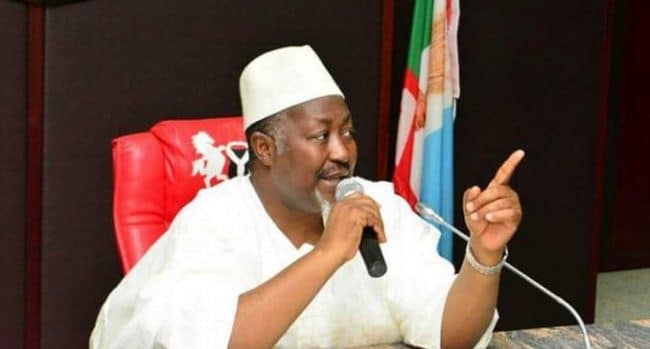 Governor of Jigawa State, Muhammad Badaru Abubakar, has reacted to the recent political party swing by a former Deputy Governor of the State, Ahmed Mahmoud Gumel.
It could be recalled Gumel announced his membership withdrawal from the ruling All Progressives Congress (APC) barely two weeks ago.
The politician had claimed that conflict, disunity, and lack of commitment were part of his reasons for withdrawing from the party, Naija News reports.
Gumel had noted in a letter he addressed to the state chapter chairman of the APC that he would be retiring to his farming business and as well continue his philanthropist gesture to the citizens of the state.
However, he was recently handed a new membership card of the Peoples Democratic Party (PDP). The politician returned to his former party, holding a party membership card in Bamaina, the country home of ex-governor Sule Lamido.
Reacting to Gumel's decision, Governor Badaru who was addressing APC supporters in Birnin-kudu Local Government yesterday, prayed for God to expose those sabotaging the ruling party.
He described Gumel as an ungrateful fellow who used to tell and swear on lies and propaganda. Badaru said: "May Almighty Allah continue to expose the untruthful, deceitful, ungrateful, those who used to tell and swear on lies and propaganda.
"That man who was saying we are not ready to win is the one who is not sincere, that is why he jumped to another party," Badaru said.