Adeboye, Oyedepo, Dangote, Otedola, Others Drags Buhari Govt To Court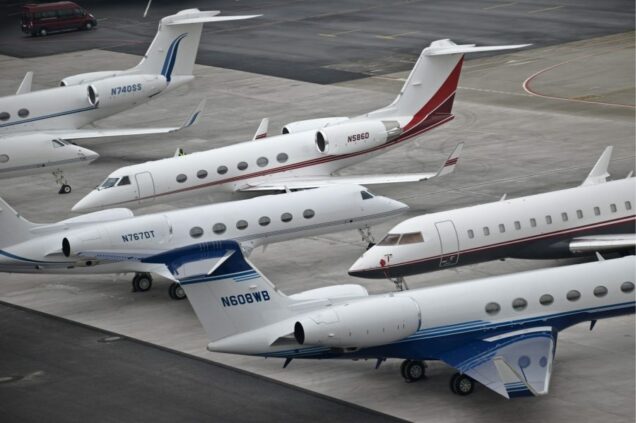 Owners of foreign-registered private jets have sued the Federal Government over a plan to ground their jets for allegedly refusing to pay import duty running to over N30bn.
Naija News reports that the owners of the private jets include senior pastors of some popular Pentecostal churches, top business moguls, leading commercial banks, and other rich Nigerians.
It was gathered that at least 17 private jet owners had gone to court to stop the federal government from grounding their private jets over their alleged refusal to pay import duties.
Recall that the Federal Government had last November approved the decision of the Nigeria Customs Service to ground their planes over failure to pay their debts.
Following a presidential approval, the NCS in a letter directed the Nigerian Civil Aviation Authority (NCAA), the Federal Airports Authority of Nigeria (FAAN), and the Nigerian Airspace Management Agency (NAMA) to ground the affected private jets immediately.
But owing to issues bothering on inter-agency rivalry and disagreements, the relevant government agencies could not ground the private jets.
However, according to the Punch, Customs has been making underground moves to perfect the process of grounding private jets whose owners failed to pay the import duty.
Following the move by the NCS to ground their jets, the wealthy Nigerians sued the government through the foreign shell companies and trustees from which the foreign-registered jets were purchased.
The jet owners are seeking a judicial review as to whether it is lawful for them to pay the controversial import duty on their private jets or not.
The jet owners dragged the federal government before the Federal High Court Abuja seeking the court to determine, among other things, if they were liable to pay import duty.
The suit, with number FHC/ABJ/CS/1565/2021, has 17 foreign companies of the Nigerian jet owners as the applicants, while the NCAA and Customs were listed as respondents.
The applicants are Aircraft Trust and Financing Corp Trustee, UAML Corp, Bank of Utah Trustee, Masterjet AVIACAO Executive SA, and Cloud Services Limited.
Others are MHS Aviation GmbH, Murano Trust Company Limited, Panther Jets, SAIB LLC, Empire Aviation Group, and Osa Aviation Limited.
The list also includes BUA Delaware Inc, Flying Bull Corporation Limited, Air Charter Inc, Sparfell Luftahrt GmbH, WAT Aviation Limited, and ATT Aviation Limited.
However, a hearing date is yet to be fixed for the suit, as the battle between the jet owners and the federal government continues.