Buhari Slams Security Set Up Over Kuje Prison Attack By Terrorists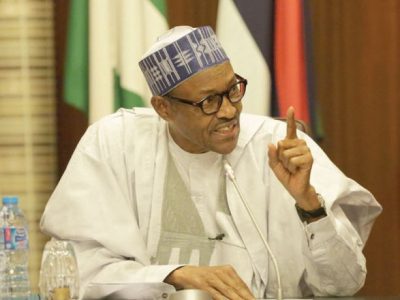 President Muhammadu Buhari on Wednesday expressed surprise and disappointment at how terrorists successfully launched a daring attack on the Kuje prison facility in Abuja.
President Buhari who visited the attacked facility in the company of the Secretary to the Government of the Federation (SGF), Boss Mustapha and his chief of staff, Prof. Ibrahim Gambari queried how the terrorists could organize and carry out such an attack.
Buhari made his mind known after he was briefed at the scene by Permanent Secretary, Ministry of Interior, Dr. Shuaib Mohammad Lamido Belgore and the Controller General of Nigerian Correctional Service, Haliru Nababa.
He questioned the inability of security forces on guard to have raised an initial alarm before the situation got out of hand and so many terrorists in detention were released.
The President was told that 63 terrorists were unaccounted for after the attack.
"How did the defences at the prison fail to prevent the attack? How many inmates were in the facility? How many of them can you account for? How many personnel did you have on duty? How many of them were armed? Were there guards on the watchtower? What did they do? Does the CCTV work?" President Buhari queried according to a statement on Wednesday by his spokesperson, Garba Shehu.
The President was also informed that the security forces have recaptured 350 of the escapees while about 450 others are still unaccounted for, and that rapid work is under way to recapture the rest.
After inspecting some of the attacked points within the facility, President Buhari told newsmen he was disappointed with the intelligence system (and utilization).
"I am disappointed with the intelligence system. How can terrorists organize, have weapons, attack a security installation and get away with it?"
He added that he is expecting "a comprehensive report" on the incident.