2023: Atiku Plans To Meet Wike Amid PDP Crisis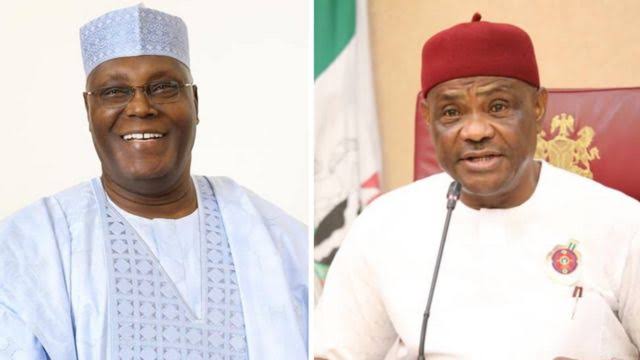 The presidential candidate of the Peoples Democratic Party, Atiku Abubakar has plans to meet with Governor Nyesom Wike of Rivers State upon his return from the United States.
There had been moves to meet with Wike who has been silent about the activities of the party, but the presence of Atiku is important to resolve the difference.
Wike went mute after losing the presidential ticket to the former Vice President and also when the party picked the Governor of Delta State, Ifeanyi Okowa as the PDP's vice-presidential candidate.
Governor Samuel Ortom of Rivers State had expressed his grievances over the decision of Atiku to ignore the suggestion of 14 of 17 members of the committee set up to pick his running mate.
Ortom during recent interviews had stated that 14 people supported Wike to emerge as the party's vice-presidential candidate but Atiku ignored their suggestion.
An aide of Atiku, who spoke with Punch on condition of anonymity said Atiku would meet Wike once he returned to the country.
This is coming after Governor Wike returned to Nigeria from Turkey after days of vacation.
The aide said, "Many people are aware that the Rivers State governor is unhappy that he lost the primary and was not chosen as the running mate, even though he was recommended by the committee set up for that, but no issue is beyond reconciliation.
"Atiku will meet with Wike when he returns. Governor Wike is a key member of our party and we need him to be on our side, not just for the election but also because that is the right thing to do. The governor is a good party man and is not the type to jump around and once Atiku meets him, we are confident the issues would be resolved and they would be able to work together for the overall interest of the party."