2023: Tinubu Departs Nigeria For France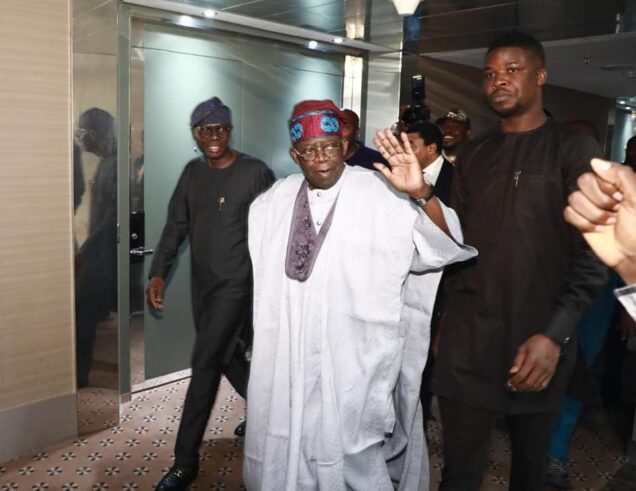 The All Progressives Congress (APC) Presidential candidate, Bola Tinubu, has departed Nigeria for France.
Naija News gathered that the former Lagos State Governor departed for Paris, the French capital on Monday morning via the Nnamdi Azikwe International Airport, Abuja.
According to a statement released by his media office, the APC presidential candidate will hold some important political meetings while in Paris.
The media office, however, failed to disclose when Tinubu will return, stating that the frontline presidential candidate is expected back in the country soon.
," the statement reads: "The APC standard-bearer is expected back in the country shortly.
"Earlier before his departure, he attended the public presentation of a book titled 'Mr. Speaker' and launch of legislative mentoring initiative in commemoration of the 60th birthday of Speaker of House Representatives, Femi Gbajabiamila.
"On June 8, Asiwaju Tinubu emerged the Presidential candidate of APC for the February 25, 2023 election at the party's presidential primaries/national convention held at the Eagle Square, Abuja.
"After the election, he immediately embarked on a series of thank you and reconciliation visits to those who contested against him at the party's primaries including the seven aspirants who stepped down for him."
Before his departure, Tinubu attended the 60th birthday celebration of the Speaker of the House of Representatives, Femi Gbajabiamila, in Abuja on Sunday.
Speaking at the event, the APC presidential candidate revealed that he is still searching for his running mate despite naming Kabiru Masari as a placeholder.
Tinubu appreciated Gbajabiamila for supporting his political ambition of ruling Nigeria and also commended the Deputy Speaker, Idris Wase for being a dependable ally.
He had said, "I could see a Deputy (Wase) sitting down there too, you are very good symbols of unity, dependability, and honesty, thank you. Thank you for both of you, you've not rocked the boat. I will need to learn from both of you, how you made the pair work because I'm still searching for my running mate.
"What you did during my primary (APC presidential election) is a story for another day. I've spent more time, too many times and people might be bored, they might be envious too, they might be jealous. I won a landslide, I thank you.
"Femi, with your determination, and reach, you are a contributor to our democratic growth, thank you. It is about charting a path to success, you've done a good job and I say thank you, thank you."