Reactions As Police Commission Promotes Magu To AIG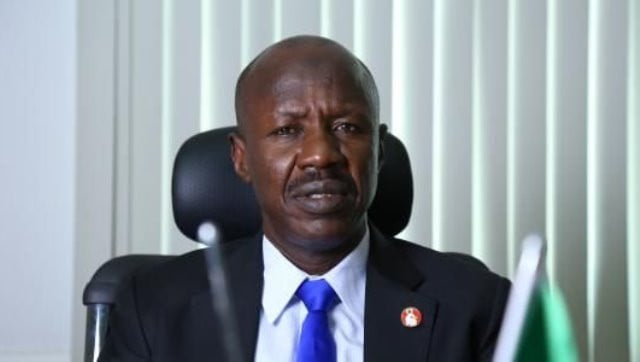 Nigerians have reacted to the promotion of the former chairman of the Economic and Financial Crimes Commission (EFCC), Ibrahim Magu, from a Commissioner of Police (CP) to Assistant Inspector General (AIG).
Naija News had earlier reported that the Police Service Commission (PSC) had confirmed the promotion of the disgraced former EFCC chairman.
Recall that Magu was unceremoniously sacked as EFCC Chairman after allegations of corruption and abuse of office were levelled against him by the Attorney-General of the Federation and Minister of Justice, Abubakar Malami.
In a statement on Monday, PSC spokesperson, Ikechukwu Ani, revealed Magu had missed the last two promotions despite being the most senior CP of his cadre.
According to Ani, other decisions taken by the Commission at the Plenary were the promotion of 57 Superintendents of Police earlier skipped when their mates were promoted to the next rank of Chief Superintendents.
Following the development, some Nigerians have taken to social media to express their view on the promotion of the former EFCC boss.
See some of the reactions below.
Am happy for MAGU. Shame on all involved in his ordeal🤮🤮🤮🤮🤮

— ANGLICAN BEING 🦅 (@AnglicanBeing) May 16, 2022
IBRAHIM MAGU, the sacked EFCC boss is promoted to AIG. BUBU is really a man of "integrity".

— ATTAHIRU (@ChuksDan) May 16, 2022
Former EFCC Chairman, Ibrahim Magu, promoted to AIG..

There was a country

— Hon. Otaigbe Imadegbelo (@Imudia_se2) May 16, 2022
PSC has promoted Ibrahim Magu, former acting Chairman of the Economic and Financial Crimes Commission (EFCC). That means he committed no offence, AGF just got rid of him. No wonder AGF can't vacate that office even to become Governor….but one day, all office holders must leave.

— Ayekooto (@DeeOneAyekooto) May 16, 2022
We live in a country were criminals are being honored (magu), murderers are being protected (Deborah's killers) and a fool rules (mr president). This government brings nothing but shame on its people.

— Babatunde 4 peter obi (@itsgtboi01) May 16, 2022
The same Magu that is serving suspension for gross inadequacies is getting a promotion to AIG.

Nigeria na comedy film aswear. 😂

— George I. Essien (@iamMightyGeorge) May 16, 2022
BREAKING: Police commission promotes ex-EFCC boss Magu to AIG.

Mr Integriry!😂

— Ayemojubar (@ayemojubar) May 16, 2022
The same Magu that was fingered in corruption case. This is the height of insult on Nigerians. This should be questioned and not allowed to just go the way of others. What nonsense!

— Core DAO chronicles (@bluntthinker) May 16, 2022
---
---
© 2023 Naija News, a division of Polance Media Inc.