Atiku Camp Fires Bisi Akande, Describes Him As Tinubu's Lapdog Who Is Suffering From Selective Amnesia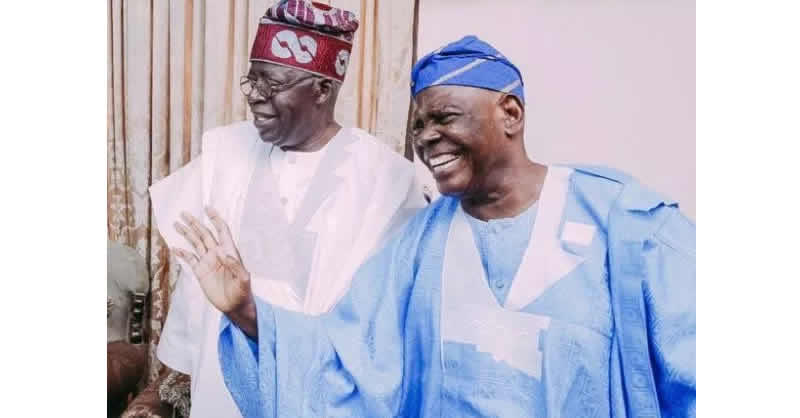 The media aide to former Vice President Atiku Abubakar, Paul Ibe has described as mischievous, the claims by Chief Bisi Akande that Atiku begged for money from Asiwaju Bola Tinubu.
Mr. Ibe was responding to claims by Akande in his biography where he insinuated that Atiku Abubakar, demanded financial support from the National Leader of the All Progressives Congress, Bola Tinubu.
According to Akande in his biography titled "My Participations", the former Vice President made the financial demands when he took a shot at the presidency in 2007 under the Action Congress party.
"Anytime we said we needed money, Atiku would say 'Bola, please help us'. Bola was the only one spending the money among us. The rest of us were poor. Tinubu also put all his energy and resources into the formation of the AC," Akande wrote.
But the Atiku camp has in reply, accused Chief Akande of choosing to be Tinubu's lapdog and twisting what actually transpired at that time.
Ibe retorted that it was normal for Tinubu to fund party activities at that time as he was the leader of the party. He, however, said other members including Atiku made funds available to run party affairs, negating the suggestions by Akande that Atiku who was the AC presidential candidate, and other party members had to go cap in hand to beg for money.
Ibe added that whatever money Atiku collected at that time was to fund party activities, and not for personal use as his principal and Tinubu were working towards a common goal at that time and it wasn't unusual to fund party activities.
He accused Akande of trying to be mischievous and mislead the public with what he claimed in his book.
He said, "As at that time, Tinubu and Atiku were of the same stock, political family. So what's the story there?" Ibe queried.
"If they were not members of the AC then, like Asiwaju Tinubu and other stakeholders in the AC, who was going to fund the campaign? It was a Presidential election that was run with Atiku Abubakar as a candidate. It is not about him as an individual. Campaigns are funded. Were you going to expect another party to fund it or other stakeholders from another party to fund it?
"It has to be funded by members of that party and the last time I checked from history, Asiwaju Tinubu was a major stakeholder of that party. If Chief Bisi Akande, with all due respect to him, has chosen to be a lapdog of Asiwaju, all well and good to him.
"But if people are recounting history, it must be put in proper perspective, otherwise what is being recounted can only amount to mischief. As at that time, Asiwaju and Atiku found themselves in the same political party. So if there was funding to be made, it has to be made by stakeholders and members or that party. Tinubu was a member and founder of AC.
"The Presidential campaign was not about Atiku Abubakar. It was about advancing the interest of the AC as a party. That's it. Let us try and put this thing in proper perspective so that it doesn't appear as if Atiku was asking him money for something else. He has to fund party and there is no big deal in that. People fund parties."
Ibe further said it was wrong of Akande to have singled out Atiku as the person always going to Tinubu to demand money when it was clear everyone of them was making funds available for the presidential campaign and other party activities.
He wrote: "Atiku was a standard bearer and everything was geared towards the promotion of the interest of the party. So, it is expected that members of the party, major stakeholders would fund that campaign. Make no mistake about it, Atiku Abubakar as a candidate was also a major funder of that campaign.
"For Baba Bisi Akande to single out Tinubu as somebody who contributed resources is like a mischief, it's like selective amnesia. Apart from Atiku as a major funder, there were also other individuals who contributed to the funding of that Presidential campaign.
"So there was no need to single out any individual that may have contributed money. So make no mistake about it, that was exactly what happened. It's their responsibility, there was nothing abnormal about that situation. The party funds its campaign, outsiders would not do that.
"Tinubu may have contributed to that campaign, he was also a major stakeholder in the party. So there was no need, except if the intendment was for mischief … for Bisi Akande to only identify Tinubu as the sole funder. It wasn't like that."
Download NAIJA NEWS app: