Adebanjo Begged Tinubu To Build His Lagos Home – Akande Reveals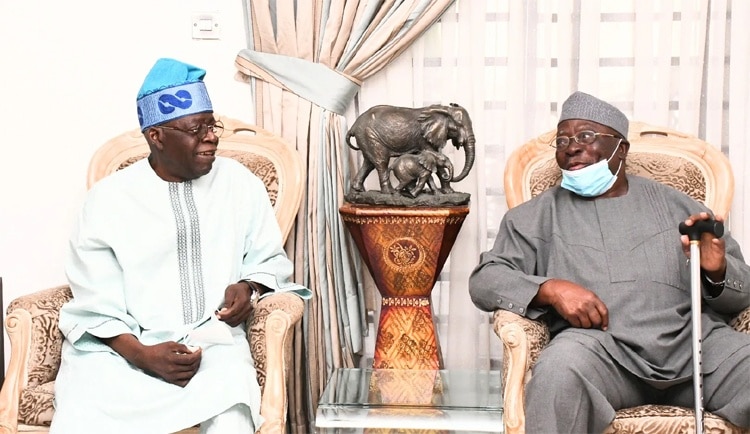 Former Governor of Osun State Bisi Akande has claimed that Pa Ayo Adebanjo begged Bola Ahmed Tinubu to build his house in Lekki, Lagos State.
Naija News reports that Akande made the disclosure in his 559-page autobiography titled "My Participations," launched in Lagos on Thursday.
The APC pioneer Interim National Chairman added that Tinubu accepted to help Adebanjo build his Lagos home after he had given him the land Certificate of Occupancy.
Akande, however, described Adebanjo as a blank politically-minded leader who does not have what it takes to run for any public office in the country.
He said: "One day, Sir Olaniwuni was launching a book at Muson Centre, Lagos. After the book presentation, Tinubu said I should not go and that he would like to see me. We met in a small room where he also invited Sir Olaniwun Ajayi. 'Papa, you can see that this document is old, Tinubu said as he handed over a big envelope to Ajayi. This is your C of O (Certificate of Occupancy)!'
"Tinubu told me later that after he presented Adebanjo's C of O to him, Adebanjo was always pestering Tinubu until he helped build a house on the plot. The street was also named in honour of Adebanjo and he is living in that house now at Lekki Phase One."
The former APC chairman also berated Adebanjo, Chief Olu Falae and late Sir Olaniwun Ajayi for representing the South-West at the 2014 National Conference.
He said, "I was not surprised that three old men who were virulently opposed to our aspirations in the APC found their ways into the Jonathan Conference. These men – Sir Olaniwun Ajayi, Chief Ayo Adebanjo and Chief Olu Falae were once our leaders in the old Afenifere until the passage of Papa Adesanya.
"They could not find any younger Yoruba to send to the conference to represent our interest. They believed, even in their old age, that they were the only people who could have gone there. Sir Ajayi, who was close to 90 at the time of the Conference, has since joined his ancestors. Chief Adebanjo celebrated his 90th birthday in 2018. Chief Falae is in his 80s. Note that Jonathan paid the conference delegates generous allowances!"
He, however, claimed that the APC never promised restructuring as one of its campaign promises in 2014, saying that the ruling party only promised to support the devolution of powers.
He said: "APC did not have 'Restructuring' in its manifesto for the 2015 elections but promised to support the devolution of powers from the centre to the states.
"While the President (whether Obasanjo, Yar'Adua, Jonathan or Buhari) has the whole of Nigeria as his constituency, members of the National Assembly that have the powers to amend the Constitution imposed on Nigeria by the military represent constituencies individually from different ethnic nationalities.
"It is therefore mischievous to place the responsibility for effecting 'restructuring' on the APC or its Presidency and not to appreciate that it would require deft negotiations among such members from different ethnic nationalities and constituencies or zonal and religious background before any political party or any ethnic nationality could successfully issue any fiat on the National Assembly to make laws on power devolution or on 'restructuring', whatever it might connote."
Download NAIJA NEWS app: