Lai Mohammed's Dismissal Of EndSARS Panel Report Disrespectful – HURIWA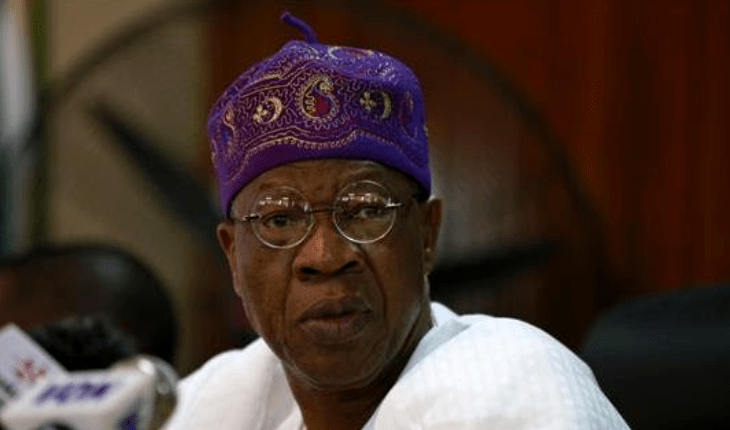 Human Rights Writers Association of Nigeria (HURIWA) has slammed the Minister of Information and Culture, Lai Mohammed, for dismissing the report submitted by the Lagos State Judicial Panel of Inquiry on Restitution for Victims of SARS Related Abuses and other matters.
Naija News reports that the minister at a news conference in Abuja on Tuesday described the leaked report as fake and a hoax, saying that the report was an "intimidation of the majority by a minority".
Mohammed stated that the report circulating in social media cannot be relied upon, saying the document was full of discrepancies and errors.
The minister added that the Lagos judicial panel failed to address some of the issues raised by a ballistic expert that testified before it and the testimonies of the Nigerian Army.
Speaking with The PUNCH on Tuesday, HURIWA National Coordinator, Emmanuel Onwubiko, says the minister was disrespectful for rubbishing the Lagos Judicial panel report.
Onwubiko stated that the minister's comment shows that he has no respect for the lives that were needlessly killed by security agencies on October 20, 2020.
He added that Mohammed's dismissal of the report shows disrespect for President Muhammadu Buhari and Governor Babajide Sanwo-Olu.
He said: "The reaction of Lai Mohammed stridently denying the clear and evidently proven massacre of gargantuan proportions in Lekki Toll Gate on 20th October 2020 and his attempt to rubbish and discredit the report of the illustrious Lagos State Judicial Panel on #EndSARS protest, is a demonstration that there is no coherence and cohesion in government at the centre.
"It shows that there is truly nobody at the Centre who is providing leadership in which case the cabinet-level ministers are doing and saying whatever they deemed alright in their warped imagination to say or do.
"The Minister of Information Lai Mohammed has succeeded in revealing the spectacular collapse of the Presidency and that governance is now through an autopilot mode. It is sad, pathetic and disappointing that the Minister spoke even before a White paper is published by the Lagos State Government and it shows that he has no respect for the sensitivity and sacredness of the many lives that were needlessly wasted by soldiers and police.
"He has no valid reason to remain as a minister because he has lost all modicum of self respect and I think Nigerians will no longer take the Federal government serious if he remains in office as the official spokesperson of the Government."
Download NAIJA NEWS app: