CJN Mohammad Swears In 22 FCT Judges (Full List)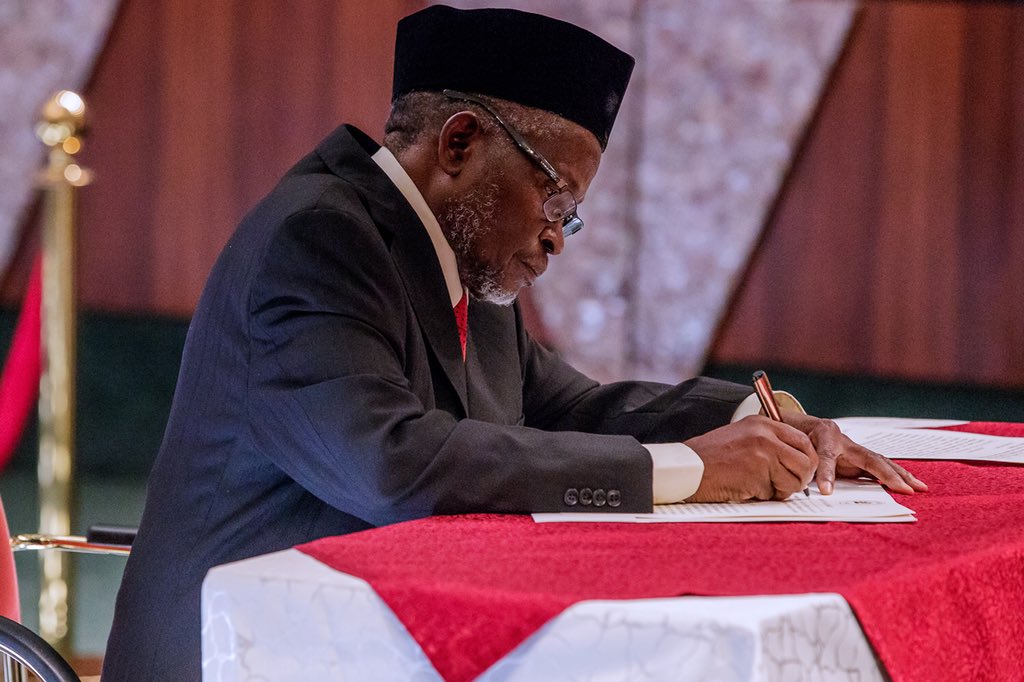 The Chief Justice of Nigeria, (CJN), Ibrahim Tanko Mohammad, has sworn in 22 new judges of the Federal Capital Territory (FCT).
Naija News reports that the newly sworn-in judges are part of the 33 judges nominated by the National Judicial Council (NJC) to President Muhammadu Buhari for appointment in April 2020.
Following their nomination by the NJC, eleven of the judges were sworn in on September 14, 2020, after being cleared by the Presidency.
Speaking at the swearing-in ceremony on Tuesday, the CJN asked the newly appointed judges to always eschew professionalism while carrying out their duties, warning them against misuse of power.
Mohammad told the judges that their appointment is not to amass wealth, vainglory, dishonest disposition or ostentatious lifestyle through corrupt acquaintances
The CJN asked the new judges to flee from anything that will bring them into disrepute in the course of their new assignment.
See the list of the newly-appointed FCT judges below:
Madugu Mohammed Alhaji (Oyo)
Agunloye Kayode (Ondo)
Enenche Eleojo (Kogi)
Aminu Mohammad Abdullahi (Kano)
Nwecheonwu Chinyere Elewe (Rivers)
Ibrahim Mohammed (Jigawa)
Sadiya Mu'azu Mayana (Zamfara)
Kanyip Rosemary Indinya (Taraba)
Aliyu Yunusa Shafa (Nasarawa)
Mohammed Zubairu (Kaduna)
Oluyemisi I. Adelaja (Osun)
Fatima Abubakar Aliyu (Gombe)
Agashieze Cyprian Odinaka (Enugu)
Aliyu Halilu Ahmed (Adamawa)
Hafsat Lawan Abba-Aliyu (Yobe)
Olufolake Olufolashade Oshin (Ogun)
Nwabulu Ngozika Chineze (Anambra)
Mimi Anne Katsina Alu-Apena (Benue)
Binta Dogonyaro (Jigawa)
Muhammad Mustapha Adamu (Kebbi)
Jadesola Oludare Adeyemi-Ajayi (Ogun)
Njideka Nwosu-Iheme (Rivers)